If you're looking to find the right engagement ring setting then you're in the right place. We know just how important this purchase is and whether you're about to propose or have already been proposed to and are now looking together for the perfect ring, it can feel like a lot of pressure. It can be a little overwhelming at first, especially when there are so many styles of engagement ring, but really, once you have picked the right setting, everything else falls into place.
What follows is a comprehensive guide to wedding ring settings, with all the important information, plenty of fun facts and beautiful pictures. If you like it and find it valuable, please show us a bit of love by clicking the social buttons above.
Also, before you start reading, make sure to watch this 1 min video to get the idea of what follows with a bullet summary in a very visual way:
Engagement Ring Settings from makehappymemories.com on Vimeo.
Intro
Why is the right engagement ring setting so important?
The setting of an engagement ring essentially refers to the way that the diamond or precious stones are held in place and hence it does an incredibly important job – holding the stones and ring together! There are multiple ways of setting a stone and they all have different advantages and disadvantages and each of them dictate the final look and style of the ring.
We believe that in love, appearance isn't the most important thing, it's the feeling, and it's the same with your engagement ring. The way it looks isn't as significant as the symbolism and promise it represents. That said, the way that the ring looks is still an important consideration as it has to last a lifetime, be compatible with your personal style and tastes and represent what you want it to.

When you're looking at the same ring every day, it is important to get it right from the start. An engagement ring should be a thing of joy and beauty and the overall finished engagement ring design that you end up with, is inextricably linked to the style of setting that the stones have.
It's technical at times but it's as important to know what the advantages are of different settings, as it is to know about the quality, cut and clarity of diamonds and the durability and softness of different metals.
There's no getting away from it – to make an informed choice on your engagement ring, you have to do a little research into engagement ring settings. Luckily we've made it super easy for you by putting together the ultimate guide to engagement ring settings. It should certainly go some way to help you to make the right decision. Good luck!
How to Pick The Right Engagement Ring Setting
If only it was as easy as shutting your fingers and pointing in a shop. Buying an engagement ring is a hugely important purchase and in lots of ways, it doesn't help that there is now so much choice and so many different ways to buy them.
But to get you started, it's best to start at the beginning. Firstly there are some important considerations that you need to ask yourself:
Budget
Decide firstly on your budget as this will dictate your options.
Some settings are more expensive than others and can contribute to an overall more complex design of ring.
Wearability
The next thing to ask is whether the engagement ring is going to be worn every single day or for special occasions only. A ring that is going to be worn every day – which is increasingly popular – means that it has to be very well secured and resilient. It also has to be able to complement and accentuate any outfit and be suitable for everyday wear – something too bold might not work in an everyday environment. If your bride to be knows she wants to wear the ring on a day-in-day-out basis, which is common practice these days, then make sure you choose a setting that will be secure and a design that allows for versatility.
Lifestyle
Life can be hard on our hands – and even harder on jewellery. From washing up to cleaning to looking after children and working, gardening, exercising, our hands are always busy. If you or your fiancé have a particularly busy lifestyle then it's worth keeping in mind that their engagement ring will need to be compatible with their lifestyle – not just their sense of style.
Engagement ring setting types
There is a surprising variety of ring setting types to choose from, but they all refer to the way in which the stones are held. From prongs to bezel to vintage or bar settings the choice is seemingly endless, but our guide below tells you everything you need to keep in mind to make the right decision.
Prong
A prong setting is one of the most classic and recognisable settings for engagement rings. Elegant and timeless, a prong setting holds the ring on several edges. Usually, prong settings come in a four or six prong arrangement to allow for a secure setting that still enables light to travel through it. The prong setting looks like a metal basket that holds the ring safely within it. In fact prong settings can come in different styles such as the 'basket' which holds a diamond on it's corners or as a 'peg head' prong setting which holds a circular diamond on its north, east, south and west sides. Claws or prongs hold the diamond or stone in place, perching on the edge of the ring in a subtle manner. It's worth noting that the more prongs or claws there are, the more secure the diamond, however, a diamond with six prongs (also known as a decorative prong setting) will not sparkle as brightly as one with only four. Three prong settings are also possible and in certain designs can be quite striking.
Overall, the prong setting is probably the setting you have in your mind when you think of how most stones are held in an engagement ring, whether it is a cluster, solitaire or triple ring style. It is an established and popular choice and one that also gives peace of mind as to the security of that all-important diamond!
Advantages and Disadvantages
Security
Strong and stable, the prong setting keeps the diamond held securely in place
Light/Brightness
Allows the most light to enter the ring compared to other settings

But, if there are 6 or more prongs, less light is able to enter the ring

Cleaning
Maintenance
Prongs or claws will need regular checking to make sure that they are still holding the stones as well as they can
Style
Prong settings are often featured in classic and timeless designs
Elegant setting that has minimal impact on the stone and allows for versatile ring design

Cost
You can find many beautiful prong setting rings in a range of budgets.
Popularity
Very popular design because of the many advantages of this style of setting
Lifestyle
Prongs or claws that protrude can catch on clothing like wool or tights (pantyhose) and can even snag on hair, so not ideal for an active lifestyle
Other
Thin prongs can bend and loosen over time so be sure to choose sturdy metals
Celebrities with a Prong setting engagement ring
There are a great many celebrities who have a beautiful prong setting engagement ring. Lauren Conrad's engagement ring features a simple solitary diamond held in a basket prong setting. Nicole Kidman and Rosie Huntington Whitely also have prong style settings on their engagement rings.
Trellis
What is it?
A trellis engagement ring is actually a sub category of the prong setting and is a simple variation on this popular style. For a trellis ring, there are four prongs which interweave in order to hold the central diamond. These prongs cross over one another to create a secure and elegant setting that keeps your stones well protected.
Often a trellis setting can be embellished with additional diamonds or even metal work like filigree. Trellis settings can be even more elaborate and can work very nicely with rings where there are multiple stones to hold in place. The effect is vintage, beautiful and classic.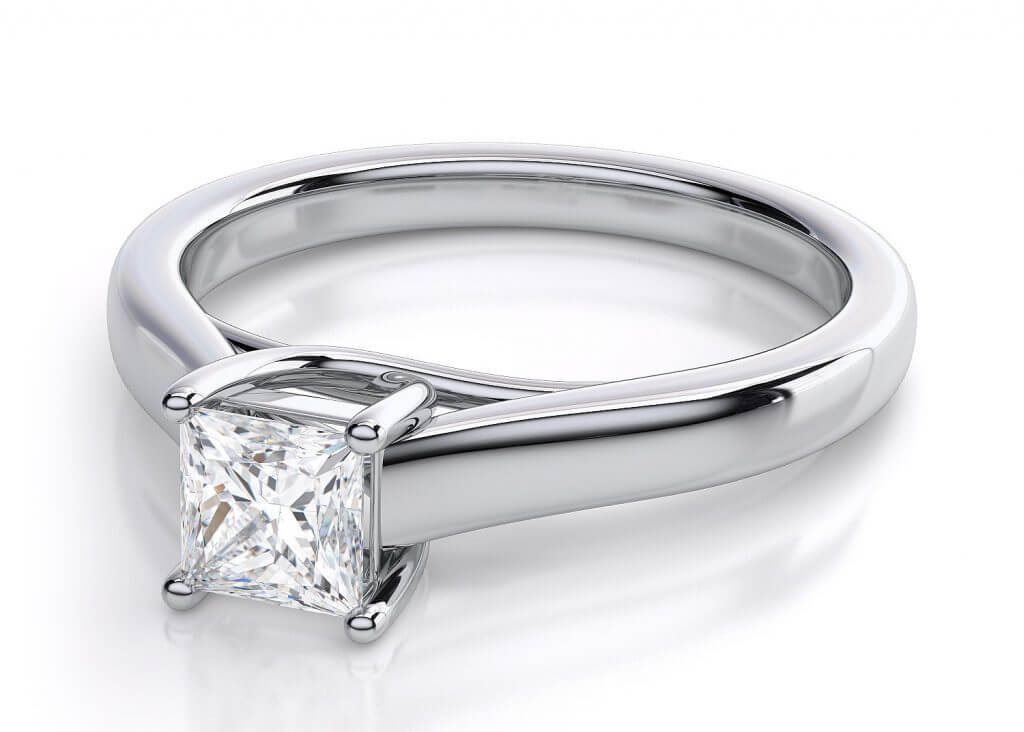 Advantages and Disadvantages
These are the same as for any prong style ring – see above.
Illusion
What is it?
An illusion setting is, like its name suggests, a way to create the illusion of having a bigger diamond. This is achieved by having a ring of metal around the girdle of the diamond. The shape of the ring mimics the outline of the stone which in turn causes the stone to look a lot larger than it actually is. This is a clever way to make your budget go a little further, and some illusion settings can actually be very striking and pretty in their own right.
Illusion setting rings were popular around the mid century and you can often find some gorgeous vintage designs that have this design feature.
Advantages and Disadvantages
These are the same as for any prong style ring – see above.
Celebrities with an illusion setting engagement ring
Sienna Miller is a fan of the illusion style setting and has been previously pictured wearing a vintage illusion ring, with a diamond set upon a wide gold band.
Tiffany
What is it?
The Tiffany style setting is exclusive to Tiffany and is a twist on the prong setting. Up until the invention of the Tiffany Setting many diamonds were fixed via a Bezel setting and Tiffany innovated to create a setting that would allow more light to enter the diamond and as such, more sparkle. Designed in 1886, the Tiffany setting revolutionised the way diamonds could be mounted so that they could shine brighter and better than ever before.
Elegant and symmetrical, the unique positioning of the prongs allows the maximum amount of light to travel through the diamond. It is also very secure. Other jewellery houses are not able to copy it but there are some very similar examples of the Tiffany Setting available if you're looking to achieve this look via a different jeweller.
Advantages and Disadvantages
Security
Very secure, holds stones safely using the exclusively designed Tiffany prong design
Light/Brightness
Allows the maximum amount of light to enter the diamond so that it looks extra sparkly

Tiffany rings are renowned for their sparkle!

Cleaning
Maintenance
Style
Classy, chic and durable, a Tiffany ring will look elegant for a lifetime
Cost
As a luxury brand, Tiffany rings can be very expensive.
Popularity
Tiffany rings are extremely popular for engagement rings, which is testimony to their universal appeal.
Lifestyle
Prongs can catch on clothing or snag on hair
Wearing a very expensive ring can feel uncomfortable for some people
Other
Unique to Tiffany, who are now synonymous with grand romantic gestures – offering a Tiffany ring is a sure way to impress!
Which celebrities have a Tiffany setting on their engagement ring?
Recent famous fans of the Tiffany setting include Nikki Bella who got engaged in 2017 to John Cena. Pamela Anderson also had a Tiffany engagement ring from Rick Salomon which she auctioned off to raise money for animal welfare charities.
Tension
What is it?
A tension setting ring refers to a ring that holds a diamond or stone in place using the metal bands of the ring itself. Highly unusual, a tension setting can look very arresting as the diamond appears to be floating, held in place only by the precision of the metal bands. This style is often seen as a modern take on the engagement ring as it is a fairly new technique. It allows for a lot of light to travel through the diamond which means it can look its' brilliant best.
This style of ring is unusual and also expensive as the bands have to be the exact right size to match the size of the stone. This means some disadvantages can be that increasing or reducing the size of the ring can become very costly.
Advantages and Disadvantages
Security
Less secure than traditional prong style or bezel type setting
Light/Brightness
Allows for a lot of light to travel through the diamond, resulting in a more sparkling result.
Cleaning
Easy to clean but you must be careful not to disturb the stone
Maintenance
A tension ring will be very expensive to resize should you need to make it smaller or larger.

A tension ring will need regular checking usually by the manufacturer that you bought it from to ensure the stones remain secure

In order to keep the stones safe, you may have to remove a tension style ring for sports, cleaning and work more so than other styles of ring setting.

Style
Unusual and definitely different, a tension setting can certainly help make your engagement ring more unique
Quite far removed from a classic engagement ring
The quirky nature of a tension setting allows for unusual designs
Cost
Often bespoke measures are needed and this can make tension settings more expensive
Popularity
An unusual choice, tension settings are not the most popular and could be perfect for a bride that likes to be alternative.
Lifestyle
A tension style ring can be more vulnerable to knocks or scuffs so it is not a good choice for someone who works with their hands or who does a lot of sport.
Other
You may want to get your beloved's exact ring size before going ahead to make a custom order of a tension setting ring because the size has to be exact.

Bezel
What is it?
Bezel settings are very secure and have been a very popular choice for a long time. They work by wrapping a strip of metal around the stone, so that it is completely encircled along the circumference. This enables it to be held very securely. It is thought of by gemologists as the safest setting but it does mean that the stone is not able to shine as brilliantly as this setting type does absorb a lot of light and conceals a large part of the stone.
There are full bezel settings to consider which encircles the stone completely whereas partial bezel settings don't cover the entire edge of the stone, rather it allows the sides to visible, allowing for a touch more dazzle.
Advantages and Disadvantages
Security
For peace of mind, the bezel is great as it is the safest setting type for your stone and will keep it very secure
The stone is well protected and less likely to get damaged or chipped
Light/Brightness
Hides a lot of the stone so less light is able to enter it and as such a bezel ring can appear less brilliant
Cleaning
Maintenance
Very low maintenance, a bezel setting rarely has to be checked over by a jeweller.
Style
The bezel style setting makes a pretty and practical alternative to a classic style of engagement ring. It certainly looks more modern in its aesthetic.
Cost
Bezel style settings can be a touch more expensive because of their increased security and lower maintenance
Popularity
As people lead busier lifestyles and want to wear their rings all the time, the bezel style setting is growing in popularity as a fresh take on a traditional engagement ring.
Lifestyle
Ideal for busy lifestyles, the bezel setting keeps your stones very safe and protected
Other
A half bezel or semi bezel is a bezel setting that doesn't surround the entire circumfrance of the diamond. This can be an alternative to consider in order to allow for more light into the stone and as such more sparkle.
Celebrities with a Bezel setting engagement ring
Actress Halle Berry had a gorgeous emerald engagement ring from Olivier Martinez which was set with a Bezel type setting – and we can see why! There's no way you'd want that emerald to go astray!
Solitaire
What is it?
A solitaire diamond ring is one of the most classic and enduring engagement ring styles out there, so much so that there is even a 'solitaire setting' made exactly for this style of ring. The solitaire setting is a prong style and usually pinches the edges of the solitaire with four claws in a basket setting. These prongs are often set at each corner of the diamond. It allows for the diamond to receive a lot of light and holds it with a very minimalistic style. Popular and pretty, this type of ring setting never goes out of style.
Advantages and Disadvantages
Security
Very secure, the solitaire setting keeps your stone safe
Light/Brightness
Because there is only one diamond on a solitaire ring it is important to maximise the light and the solitaire setting allows your stone to sparkle to its best
Cleaning
Maintenance
A ring with a solitaire setting will need checking over the course of your lifetime every few years to make sure that the prongs are as secure as they can be.
Style
Very classic and very traditional
Cost
Solitaire rings can be less expensive as there is only one stone
Popularity
Enduringly stylish, solitaire rings never go out of fashion
Lifestyle
Suitable for everyday wear.
Other
For some, the solitaire setting and ring style may be too straight-forward or not original enough
Celebrities with a solitaire setting engagement ring
Such a classic style of ring is hard to find among the A-listers who often like their bling big and bold. But actress and model Kate Upton's large diamond solitaire is held on a solitaire prong setting on a band that's enhanced with smaller diamonds.
Cathedral
What is it?
A cathedral setting ring sounds sophisticated and it really is. This style of setting is often seen on more vintage style rings or rings inspired by yesteryear. Essentially, the cathedral setting mounts the stone above the ring's shank. This means that it is held by arches of metal hence the reference to cathedrals. One of the most popular styles of ring, the cathedral setting is timeless and has the added advantage of making the stone more prominent and can even make a stone look larger than it actually is.
What's more, sometimes you can even have embellished with stones underneath as a secret additional feature.
Advantages and Disadvantages
Security
Light/Brightness
Makes the main stone more appear more prominent and brilliant

Raised setting allows for lots of light to travel through the stone

Cleaning
Can be more complicated to clean as you have to access the area underneath the diamond
Maintenance
A cathedral setting ring will need infrequent maintenance and checking by a jeweller occasionally throughout your lifetime to ensure that the stone remains secure.
Style
An enhanced version of a traditional and classic style of engagement ring
Opportunity for additional embellishment and customisation
Cost
Can be more expensive, especially if there is embellishment on the cathedral setting itself
Popularity
A cathedral setting is gaining in popularity due to the way it allows for additional brilliance and original opportunities for customisation on the setting area.
Lifestyle
A cathedral setting ring means that the stone can be vulnerable to knocks as it is set higher above the band
Other
Additional secret jewels can be added to the setting of a cathedral setting for extra opulence!






Celebrities with a cathedral setting engagement ring
Katie Holmes had a split shank cathedral set engagement ring that shone very brightly.
Three Stone

What is it?
The clue is in the name of this one – a three stone setting refers to an engagement ring where there are three stones set alongside each other. More often than not the centre stone is the largest and the ones either side are slightly smaller, although this is not always the case.
These stones can be set in a variety of ways, using bezel or prong or cathedral settings, although a tension setting for three adjacent stones is much harder to find.
Advantages and Disadvantages
Security
Three stone style rings can be very secure but this depends on how they are set – e.g. bezel, prong, bar etc.
Light/Brightness
Three stone setting engagement rings can capture the light very well, but try not to have darker stones either side of a central diamond as this can reduce its brilliance.
Cleaning
More stones means more to clean!
Maintenance
Depending on the setting of the stones, bezel, prong, bar etc, you may need to get your ring checked or tightened every few years.
Style
A fairly traditional style, a three stone setting is an update of the classic solitaire

Having two stones either side of the centre stone can make it stand out more

Three stone settings come in interesting designs

You can have a different stone as the centre stone or as the side stones to include colour, for example rubies or sapphires.

Cost
More stones means it will be more expensive
Popularity
Three stone settings remain traditional in appearance but are still quite unusual.
Lifestyle
Suitable for most lifestyles dependent on settings
Other
Like all ring settings and styles, a three stone setting is subject to the individual's taste
Celebrities with a three stone setting engagement ring
British actress and entrepreneur Elizabeth Hurley, received a sapphire engagement ring set with diamonds either side, from Shane Warne. Elegant and striking, the three stone setting allows for a statement stone to take centre stage.
Halo
What is it?
A halo setting ring involves a rim or halo of diamonds or smaller stones positioned around the centre stone, creating more drama and more dazzle. It's a beautiful style and allows for some interesting designs that place the focus well and truly on the centre stone. It can also be a cost-efficient way to add more sparkle and make a smaller center stone appear larger.
Advantages and Disadvantages
Security
The greater number of stones means there is more chance of losing one of them over time, but as a general rule, halo style rings do hold the central stone very securely.
Light/Brightness
The halo of smaller diamonds adds more sparkle and shine.
Cleaning
More stones means more to clean – can be more time consuming to keep a halo style ring looking brilliant
Maintenance
Halo rings require a lot of maintenance as there are often so many small stones to check, clean and keep stable.
Style
An enhanced take on a classic solitaire, the halo provides more wow factor
Looks symmetrical and elegant
Cost
Can be more pricey than other styles of ring.
Popularity
Very popular up until a few years ago, the halo style ring is one that often goes through waves of popularity
Lifestyle
Not suited to extremely active lifestyles as the stones could be vulnerable to knocks etc.
Other
A halo style ring can enhance the appearance of your main stone
Celebrities with a halo engagement ring style setting
Nikki Reed, Katherine Heigl, and Nicki Minaj all have engagement rings with a halo setting to enhance the sparkle factor of their divine diamonds.
Cluster

What is it?
The cluster setting is a little rarer to find these days but it is still a very striking and graceful way to set your diamonds. The cluster setting normally involves lots of smaller stones being set together to form a burst or cluster of sparkle and shine. Sometimes there is a central, larger stone, but some cluster setting designs can have stones all of the exact same size.
Advantages and Disadvantages
Security
Because there are more stones, there is more to worry about! Normally however, a cluster style ring will be secure, but it will probably require more checking (see maintenance).
Light/Brightness
This style of ring can be very sparkly as the cluster effect adds more impact
Cleaning
Requires careful cleaning
Maintenance
Because there are more stones it's important to check all the settings are secure
Style
Adds more wow factor to smaller stones by grouping them together
Cost
Can make a more cost-effective option as smaller diamonds are less expensive
Popularity
Cluster style rings are not the most popular, possibly because they are often a lot more expensive
Lifestyle
A cluster style ring will need to be removed for sports, gardening or other more abrasive activities in order to keep it protected.
Other
Cluster rings can be quite traditional and there are some beautiful vintage versions around
Celebrities with a cluster engagement ring style setting
Miranda Kerr had a halo meets cluster style setting for her gorgeous engagement ring from Orlando Bloom.
Channel
What is it?
A channel style setting is basically a ring whereby the diamonds or stones are set into a channel or groove within the band. This means that the metal of the band is exactly sized so that the tension is correct to hold the stones in place.
Elegant and refined, a channel style setting is often used in conjunction with other stones and settings, sometimes with a larger central stone in the middle, with channel set stones on the band itself. Sometimes the channel setting is suited for wedding bands where the bride wants an extra touch of glamour.
Popular for the fact the stones are secure, you can find channel settings more and more frequently in engagement rings and wedding bands.
Advantages and Disadvantages
Security
Light/Brightness
Stones shine fairly brightly
Cleaning
It is hard to clean behind the stones.
Maintenance
Any changes to the ring can be expensive.
Style
Complements a central stone very nicely
Cost
Popularity
Channel setting rings on their own are not often chosen for engagement rings, normally the channel setting is used on stones that surround a larger central stone.
Lifestyle
Stones are well protected from knocks and blows so it suits a practical lifestyle
There are no protruding prongs or clasps that could get caught on clothing
Other
It is very difficult to resize a channel style ring
Bar
What is it?
A bar setting is designed to hold smaller stones in place. Stones are positioned in a row with metal bars in between them to hold them securely. Often bar setting engagement rings allow a bit more light into the stones than a channel setting, as there are often edges left available to catch more light.
Advantages and Disadvantages
Security
Less protection for the stones from knocks or bumps
Light/Brightness
Cleaning
Requires careful cleaning
Maintenance
Style
Good for smaller stones
Works well on a band around a larger central stone
Classic style but updated
Cost
Popularity
More and more designs are integrating the bar setting
Lifestyle
Other
More complicated to resize than other settings
Flush or Gypsy
What is it?
Flush style settings are also known as gypsy settings and refer to diamonds or stones being held within the band itself. This means the metal has a sort of 'nest' or recess within it that is perfectly sized to hold that exact stone or diamond. This means that flush rings are very comfortable to wear as there is no risk of snagging and the diamonds are smooth against the metal.
Advantages and Disadvantages
Security
Very secure and well protected
Light/Brightness
Diamonds will appear less brilliant because of the fact only the top side of the diamond is visible
Cleaning
Maintenance
Style
A flush style ring is often a modern take on an engagement ring
Cost
Popularity
Not extremely popular, flush style rings remain quite rare, possibly because the sparkle factor isn't as noticeable
Lifestyle
Perfect for those with an active lifestyle who want to wear their ring a lot
Other
Celebrities with a flush style setting
Camila Alves, the wife of American actor Matthew McConaughey has a wedding band that is dotted with flush style diamonds.
Pave
What is it?
Pave is a really effective way of clustering diamonds together for a big impact. It comes from the French word, paved and it involves setting many smaller diamonds together by drilling small holes into the metal of the ring and holding them in place by securing them with a tiny droplet of metal in between each diamond. It's technical but the results can be stunning.
Smaller diamonds are used to create an impactful cluster of diamonds and in 'micro pave' even smaller diamonds are used to create a similar effect.
Advantages and Disadvantages
Security
Stones held in the pave setting are fairly secure but will require maintenance over the years.
Light/Brightness
Can make a less brilliant stone appear brighter
Cleaning
Maintenance
Because there are so many stones pave rings require a lot more maintenance
Style
Pave is a fantastic way to complement a central stone
Adds glamour
Cost
Pave uses smaller stones which are less expensive
Popularity
Pave is a very popular way to enhance a central stone or add sparkle to a band.
Lifestyle
Suitable for most lifestyles
Other
Can be difficult to resize
Celebrities with a pave setting engagement ring
Operatic singer Katherine Jenkins engagement ring features a band of pave diamonds that complement the central halo setting diamond perfectly.
Invisible
What is it?
Popular in the 1920s within the Art Deco movement, invisible style settings for engagement rings are often associated with vintage or antique rings, but lots of designers are doing a modern take on this setting technique.
Invisible settings position stones next to one another so that there is no seam or prong or bezel in between them. This creates a greater surface area of sparkle and glamour. The stones are in fact held securely in place via a metal structure that has been made underneath them.
However, while the stones are shown off nicely, this setting is not the most secure and there is more probability of a stone becoming loose over time.
Advantages and Disadvantages
Security
Light/Brightness
This setting style means that stones do not sparkle as brightly as they could via other settings like prong style settings.
Cleaning
Maintenance
Will require regular maintenance
Style

Unusual setting

Perfect for vintage lovers

Stones are given pride of place

Cost
Popularity
Not very popular as harder to find
Lifestyle
You have to be careful when wearing a ring with an invisible setting so as not to lose the stones.
Other
More specialist setting means that any size changes are more difficult and costly
Antique Or Vintage
What is it?
Antique or vintage style settings are rings which integrate stylistic features from a certain period of time. For example, Edwardian, Victorian, Art Deco – all these periods have artistic touches and flourishes or settings that are typical to that era. Whether set with filigree (a type of metal work involving small threads of metal) or set with metal beading – known as milgrain, vintage or antique style settings can be more complex and floral in style.
Modern rings can integrate vintage style features within their designs as well, drawing on refined tastes that have withstood the test of time.
Advantages and Disadvantages
Security
Depending on the style of ring, stones may not be as secure as some more modern day rings
Light/Brightness
Many vintage style settings are very traditional and do not allow as much light into the stones
Cleaning
Some antique or vintage style settings can be very detailed and harder to clean or repair
Maintenance
Will require regular maintenance
Style
Vintage or antique style rings can be complex or unique in style
One of a kind
Elaborate designs and combinations that draw on heritage and classical influences
Cost
Popularity
Vintage style rings are always going through waves of popularity with different time periods coming back into fashion. Rings from the 1920s and 1930s remain universally popular.
Lifestyle
Not suitable for very active lifestyles
Other
Some brides to be don't want to wear a ring that has a history of its own
Celebrities with an antique or vintage setting engagement ring
Penelope Cruz has a beautiful Edwardian sapphire engagement ring while other A list actresses Natalie Portman and Jessica Biel also have beautiful vintage-inspired rings that draw on the past.
Twist
What is it?
A twist style engagement ring setting can resemble a number of ring styles. Most often though, it refers to a twisted band so that it creates a criss cross effect. Sometimes it can refer to a twisted version of the traditional prong setting where the 'arms' of the prongs are angled so that it resembles a twist. Other versions of a twisted setting can include two intertwining bands that 'twist' into each other for an original and quirky alternative to a traditional band. Upon this band, one or several stones can be set. A twist setting is ideal for brides who prefer a more original approach, and depending on the design a twist setting can be a very subtle way of adding a touch of difference or it can be a real statement.
Advantages and Disadvantages
Security
Light/Brightness
Cleaning
Can be more complicated to clean
Maintenance
May require maintenance from the supplier
Style
A twist can provide a modern take on a classic look
Cost
Popularity
Lifestyle
Suitable for most lifestyles
Other
Twist styles can vary widely
Celebrities with a twisted setting engagement ring
British television actress Jacqueline Jossa has a simple solitaire ring that features a twisted band. Other celebrity fans include Channing Tatum's other half, Jenna Dewan whose ring has a twisted band set with pave diamonds.
Unique or Personalised
What is it?
If you are interested in creating a one off ring that has a new approach or setting that you feel can't be found anywhere else, the best thing to do is to go directly to a jewellery designer and work with them to come up with a one-off design and setting that reflects exactly what you want.
There are a lot of ways to make an engagement ring extra personal and interesting to your couple specifically, from using certain engravings to details embellishing the setting or using the symbolism of stones, colours or numbers to communicate subtle messages about your relationship and your personal love story.
Advantages and Disadvantages
Security
Your choice of setting can improve the security of the ring. For the most secure stones the bezel setting is most popular.
Light/Brightness
You can select the right setting for you to enable the perfect amount of brilliance
Cleaning
Normally straight forward to clean
Maintenance
A bespoke ring may need to be maintained by the specific designer that you bought it from
Style
Having a bespoke design will mean your engagement ring is truly unique and special
Cost
Having a completely unique design made up can be much more expensive
Popularity
Bespoke or customised designs are ever more popular and many jewellers specialise in personalisation for engagement rings and will help you to design your own
Lifestyle
Makes an even more interesting story for a future family heirloom
Other
Additional sentimental value
Celebrities with a unique setting for their engagement ring
Halle Berry's beautiful emerald ring from Olivier Martinez is apparently coded with lots of symbolism and messages that can only be understood by the couple. Matthew McConaughey and his wife Camila Alves also have personalised elements on their rings, which have unique resonance just for them.
Final Thoughts
How to pick the right engagement ring setting?
Picking the right engagement ring setting depends on a lot of factors, but it's worth knowing about lifestyle, budget, taste and of course, your own style as a couple.
As you can now see, there are all sorts of considerations and benefits and disadvantages to various settings but overall the most important things to keep in mind are the style and practicality of the ring, as well as the security of the stones. After all, if you're going to invest in a beautiful ring, the last thing you want is for the stones to go astray!
If you're unsure which type of stone or ring to buy to propose with, then why not propose and then design and choose the perfect ring together afterwards? This way you'll be sure to get it right and it can be a wonderful and exciting experience to shop together for this important purchase as a couple.
Will the engagement ring be compatible with the wedding band?
The style of engagement ring setting that you choose can sometimes determine the style of wedding band as well, particularly if the engagement ring setting is an unusual shape or style.
If cost is a subject of concern, then it can be more affordable to buy a set that includes an engagement and wedding together. This way you'll have two rings that perfectly complement each other – and only one shopping trip to do as well!
Not sure where to start?
A great way to get an idea of what you or your beloved wants from a ring, is to download a ring related app like 'The Vow' which allows you to virtually try on a range of styles on your own hand. This can give a great idea as to what size, shape, style and setting you should go for. Visit The Vow here for more information. https://itunes.apple.com/us/app/the-vow-diamond-engagement-rings-finder/id509902433?mt=8
More Resources on the Subject
Here is a few places online where you can find more information and inspiration on Engagement Rings in general.
Brides.com Engagement Rings
Stylemepretty.com Engagement Rings
Green Wedding Shoes Engagement Rings
pinterest diamond engagement rings
Know someone who's about to pop the question? Forward this article to them so they can brush up on their engagement ring setting knowledge!