If there's one spot in Greece that can live up to the hype, it's definitely Santorini. Known as one of the gems of the Aegean, this volcanic island fuses breathtaking views, romance, and history — with its picturesque cliffs and white-washed structures, warm weather, stunning sunsets, rich culture, and of course, friendly locals. No wonder Santorini consistently lands in the list of the top wedding destinations in the world – it's simply iconic.
Getting married on this island is also a breeze, as everything you'll ever need are easily accessible – gorgeous venues, talented suppliers, and professional wedding planners. And speaking of a wedding planner in Santorini, it is highly recommended to hire someone local, who knows the island's best deals and selections, as this will help you pull off a dreamy Santorini wedding with an authentic Greek touch. She will help you perfectly create a beautiful and magical celebration just like how you have always imagined.
We asked a wedding planner in Santorini to share the city's best-kept secrets when it comes in tying the knot. Read on for the full details!
1. Visit some luxurious private venues
Although Greece has loads of secret wedding destinations, what sets Santorini apart is its array of majestic cliffs with the memorable white-washed villages unique to the island. Within these cliffs are hotels with jaw-dropping views of the Aegean Sea that can serve as the perfect backdrop to your big day. There are also private villas if you want to keep the ceremony tight and low-key.
2. Check out the lovely churches and chapels
Whether you're having a Catholic or Orthodox wedding, there will be a lovely church in Santorini for your happy ending. At the heart of Fira is the Orthodox Cathedral, the largest church in the island, a timeless architecture of divine frescoes and artistic mosaics. In the area of Perissa, on the other hand, is the Church of the Holy Cross, with its striking blue domes and an impressive bell tower. There are also a number of smaller chapels to choose from if you want something more intimate. Best to ask your wedding planner in Santorini for recommendations.
3. Choose your romantic reception
Do it poolside, on a terrace with a panoramic view, or indoors, Santorini has a line up of elegant locations for your magical evening. For a unique twist, try a romantic mansion, a hotel with a view of the sunset or a beach bar at one of the southern beaches.
4. Enjoy some fun side-activities
Take a break from your wedding planning and treat your guests with some exciting outdoor activities. Ask your wedding planner in Santorini to help arrange a day of Oenotourism or an experience of Santorini's "wine roads." The island has wine zones where you can taste the famous Vinsanto a dessert wine, Assyrtiko, Athiri, and Aidani. Cheers to that!
If you want something invigorating, spend a warm and wonderful day Palea Kameni an island which is also an active volcano. Visible from the caldera, you can rent a boat to reach this awesome spot where you and your guests can take a relaxing dip at the healing sulfuric yellow hot spring.
5. Discover some hidden beaches
If you and your partner can't get enough of the sea, then one pre-wedding activity you should do is beach-hunting in Santorini. It's hitting two birds with one stone – you get to do your ocular while gaining that much-needed break and tan. Santorini being an island makes it littered with secret beaches that can serve as your venue. Doing this can also just be your sweet escape for the day. Must-visit sites are Vlychada Beach, Red Beach, Mouzakia Beach, and Cape Columbo.
6. Take some pre-wedding snaps
If there's a place on Earth with the most Instagram-worthy backgrounds, it would be Santorini. Take advantage of the fact that you're in one of the most beautiful places in the world. Hire a local photographer and head to Oia Village for a sweet shoot session. There are also galleries housing some of the most impressive art that you can check out.
7. Sail the sea
Have a wedding on board or add a cruise to your itinerary, either way, it'll be enjoyable for you and your guests. Include stops at secluded beaches or take part in some exciting water activities. You can also learn how to scuba dive while you're at it. For the best yacht options, better let your wedding planner in Santorini do the choosing for you. Just let her know the budget and she'll get it done.
8. Go caving
Stay at a cave house, that is! Santorini is known for traditional cave-style architecture, and staying in one is a must-do, especially for first-timers.
9. Try a unique wedding transport
Ever dream of riding into the sunset with your soul mate? Do it in a cute yet romantic way — with a donkey in Santorini! This is traditionally done due to the island's rocky terrain, but if you want to add something Greek to the wedding, this is the route to go. Ask your wedding planner in Santorini to arrange this one for you. She'll definitely know where to look.
10. Do an epic food trip!
Treat your taste buds with delicious and divine Greek cuisine! The island has a number of restaurants that serve the most appetizing local delicacies. Bring your wedding guests to a tavern or have a relaxing time at one of the island's many cafés. There are lots of food to taste, like Tomatokeftedes or fried tomato balls and some Melitinia. Don't forget to try the tasty and world-famous Santorini Fava, which was awarded PDO or Protected Designation of Origin.
11. Watch the sunset
Experience first-hand the most majestic sunset in the world in Santorini. Schedule a dinner for you and your partner (or the whole wedding party) at one of the cliffside restaurants and wait for the breathtaking moment as the sun sets over the island. Share stories and good laughs as you breathe in the beauty of Santorini.
12. Sing a serenade
Another way to celebrate your love is through music. Have a group of local musicians sing to you and your guests before, during, or after the celebrations. These talented artists that can play traditional tunes for your special day. Ask your wedding planner in Santorini to book them for you ahead of time, as they are very popular with weddings. Dance and be merry, Greek-style!
13. Brush up your history
If you and your soulmate are into history and culture, the island has the perfect activity for you – visiting the Akrotiri archeological site. The remnants of this ancient village show the rich and sophisticated way of living in Santorini even hundreds of years before. Don't forget to bring your camera for documentation.
14. Watch a movie
At an outdoor theater! Watch the latest movies while under the beautiful and star-studded Greek night sky at The Kamari Open Air Cinema. Ask your wedding planner in Santorini to reserve you some seats, or even have the whole cinema booked for the whole wedding party. This definitely makes a great pre-wedding activity. Don't forget to bring the popcorn!
15. Witness the view from the top
Have a dreamy helicopter ride with your loved one and see Santorini from a different perspective. Fly over the beautiful cliff villages, the volcano, and the whole caldera. There are helicopter services that do this kind of tours.
16. Explore by foot
Keep your blood moving and your adrenaline pumping by hiking the paths and alleyways of Fira and Oia. This is another way of discovering more secrets the island can offer. Immerse in the local culture, meet the locals, and familiarize yourself with the place. Once you've explored enough, you'll definitely feel at home.
17. Learn how to cook
Prepare for the wedded life by learning how to cook! There are restaurants and chefs on the island that offer classes for traditional Greek cooking. It's a fun pre-wedding activity that you can do with your entourage. This way, you get to bring home not just a new skill but a part of Greece with you.
18. Shop for your wedding needs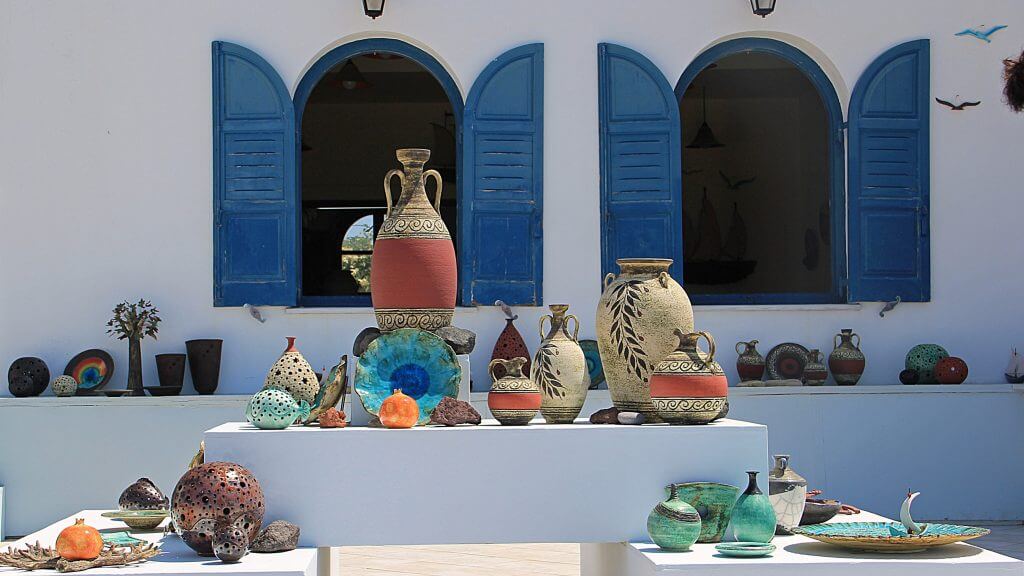 Need something for the wedding? No worries, the island has a number of shops where you can do last-minute purchases. From fashion and jewelry to favors and giveaways, there's a store in Thira, Oia, or Fira that you can visit. Tag along your wedding planner in Santorini for a fun day of wedding shopping.