Classic Collection
These timeless tablescapes are luxurious, elegant, and simply unforgettable. Neutral linens, posh dishware, and fabulous florals complete the arrangement.
1. Exquisite and Elegant
#RefinedRomance
---
2. Monogrammed
#FitForRoyalty
Nothing says personal touch than this style. Monogrammed tableware and napkin that represent you and your partner. Have fun and use a couple icon – anything goes. This one in light blue and rust create a cohesive look fit for a king and queen. You can even keep these wares for personal use at your new home!
3. Heart and Hues
#LoveIsAllAround
4. Curated Colors
#ASweetSwatch
5. Wood and Gold
#DreamyDinner
6. Unforgettable Union
#TimelessTable
Create an impact on your big day by making sure that your table setting is well thought out. The secret is creating a cohesive and complementing overall look by using colors that go well together, applicable to your flatware and accents like menu cards and name cards.
7. Glam and Gorgeous
#BrightAndBeautiful
Chic and Casual
If you're having a laid-back affair, going for chic and casual tablescape is the best approach. The best thing about casual settings is that you have more freedom to get creative and add personal touches that are beyond the usual.
8. Beachy Vibe
#NauticalandNice
9. Eclectic Dreams
#SweetAndSilly
10. Pool Party
#FunUndertheSun
Ahoy, captain! Go on-theme with your poolside party by using striped and woven accents, white wooden chairs, and simple white florals. Have refreshing drinks available so your guests can quench their thirst, especially if it's an outdoor event. Got some favors to give? Put them on top of their seats so they can enjoy their goodies once they get settled!
11. Tropical Feels
#GoingBananas
Your guests will surely go bananas with these fun prints! No need for overwhelming accents, just a beautifully printed dinnerware, gold flatware, and complementing stemware are enough to make a setting as simple as this unforgettable. Great for special occasions or even for that fun and relaxing brunch with friends and family.
12. Pizza Parlor
#FunAndPlaid
13. Ocean Celebration
#SweetSea
Your guests will surely feel the ocean magic with this cool tablescape. The classic blue and white combination gets elevated by the coral-painted plate, clam-shaped saucer, and cutlery with bamboo handles. Finishing the look are ferns that look like sea grass.
14. Fun with Paint
#AwesomeArt
Go for something artsy and use painted plates for your table setting. What's awesome about this is you get to pick the artwork based on your theme. This one is perfect for baby showers, christening, and even tea parties with your girl friends.
Modern Makeover
There's always something new to try when it comes to tablescapes and you should not be afraid to infuse some of these fresh vision to your arrangement. Fun geometric shapes, bold colors, quirky prints, and pleasing patterns – you need all of these to update and elevate a traditional setting from simple to stunning.
15. Minimalist Magic
#SimpleButIrresistible
16. Vases and Blooms
#BigBoldVases
Blooms are usually the star of the table but not with this tablescape. The use of big, bold, and blue vases add personality to the whole creation. The dinnerware, stemware, and linens go so well together; plus, the complementing colors of the vases and flowers as perfection.
17. Gold Standard
#MetalMystique
18. Gleaming Grecian
#GreekMagic
Get transported to the gorgeous Greece with this amazing tablescape. The white reminds us of ancient whitewashed villages and architecture, the blue of the Aegean, and the gold the glorious Greek sunset. Completing the look are vibrant florals of wildflowers, orchids, and bougainvillea. Stunning!
19. Copper Charm
#MetallicTreasures
20. Mediterranean Masterpiece
#ChasingTheSunset
Exude the beauty of the Mediterranean sunset with this stunning setting. Warm tones of yellows and orange wildflowers, candles, delicate glass stemware, and pretty colorful plates. The velvet linen completes the exotic yet romantic vision.
21. Geometric Galore
#NewRomantics
22. Glass and Greens
#GardenOfLove
Romantic Revels
Be it a formal or casual affair, a setting inspired by romance is always a hit. Delicate details, soft colors, and intricate inspirations are surefire tricks to come up with something your guests will fall in love with. Some of your must-haves? Candles, crystals, and lots of beautiful florals.
23. Garden Gathering
#GreenWithEnvy
24. Romantic Reception
#LuxeAndLove
25. Light and Lovely
#EnchantingAffair
26. Pleasing Patterns
#PerfectlyPrinted
Of course you can mix prints! Striped linen and dinnerware of blues and yellows surprisingly go well together with the silver cutlery. The octagon place mat puts a quirky personality and the brown napkin add in an earthy tone to the overall design.
27. Crystal Creation
#ShineAndShimmer
28. Blush and Blooms
#JuicyAndJoyful
29. TropiCool
#ForestFairytale
30. Rainbowbrite
#ColorConnection
Your party will surely be a pot of gold with this captivating and imaginative tablescape. Purple linens, turquoise goblets, floral fiesta of hues and colors, finished with glass and gold ware. Now that's making a statement!
31. Floral Pleasures
#WoodlandWonderland
32. Flamingo Fever
#BeautyAndTheBirds
Just the ideal feature for an entertaining and enjoyable party – for kids and adults like! This flamingo—themed table setting gives off major summer vibes that remind you of holidays at the beach and good time under the sun. Monogrammed plates, bamboo cutlery, multi-colored stemware, cute ceramic accents, and funky printed linen – now that's a celebration we would love to attend!
33. Fruits and Florals
#FruityAndPretty
34. Charming Checkers
#BlueAndBlissful
35. Boho Beautiful
#NeutralAndNice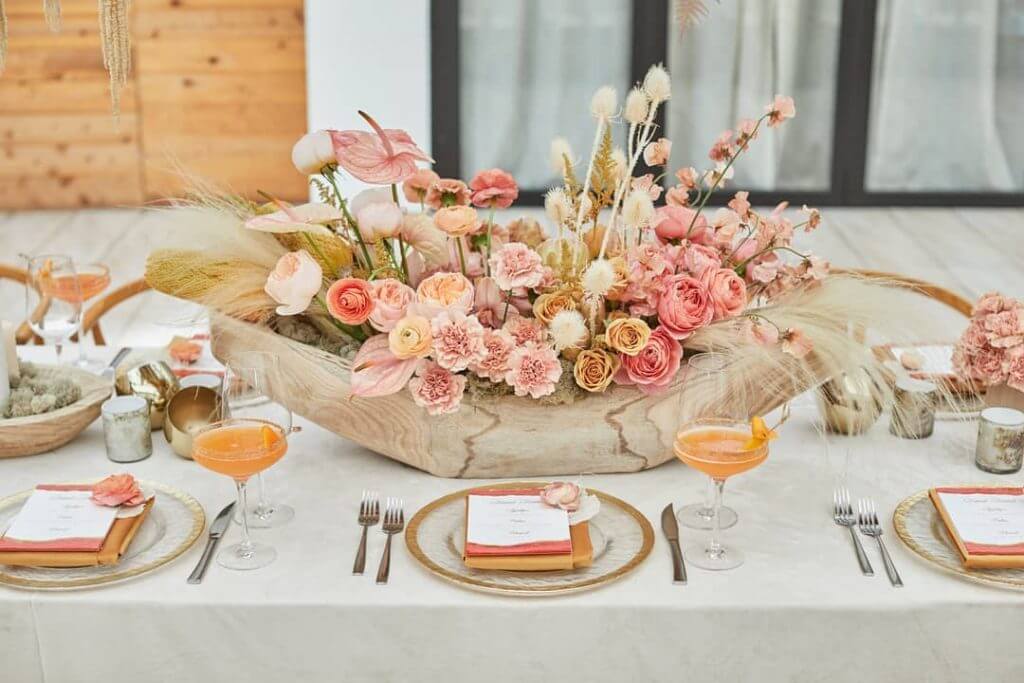 You know you're going to have a wonderful time when you see a some nicely done plating and gorgeous florals on your table. This neutral setting looks like a bohemian dream – gold-rimmed plates, flawless glasses, copper candles, and a stunning centerpiece of various blooms, wildflowers, and pampas grass.
Seasonal Selections
Whatever the time of the year is, there's always a table setting to complete the match the surroundings. Winter, spring, summer, fall, there are always tablescapes that fit the season.
36. Summer Daze
#LightAndLively
37. Sweet as Spring
#InFullBloom
38. Winter Wonderland
#EverythingIsPine
39. Autumn Affair
#FallinLove
40. Pretty Festive
#ChristmaSparkle
41. Outdoor Fun
#TuscanTreat