One of the biggest considerations in planning a wedding is the concept. This part is very crucial as this will set the mood and story of your whole celebration. What's fun about this is that you can get creative with your choices. You can draw inspiration for the branding from just about anything – your love story, your favorite color or hobby (traveling or art), the venue of the wedding (or location if it's a destination wedding), and even the seasons (summer or spring). Weddings are wonderful because in this day and age, you can now personalize based on your taste, from decors to accessories, down to the blooms.
When it comes to important wedding elements, flowers definitely come first. They bring color and life to the event and complete just about any motif. There are literally hundreds of floral options to choose from — traditional ones like roses and tulips, down to unconventional ones like succulents and even fruits.
In this article, we have listed down the most popular wedding styles and the blooms that complement them. But remember, these are just suggestions and the best thing to do is always go with your vision and how you originally want your wedding to unfold. There's nothing more magical than a wedding that is one-of-a-kind and uniquely your own. Don't be afraid to add a personal touch. It's your wedding, have fun with it!
1. White Roses & Dahlia
#Romantic Radiance
This timeless theme is popular for its classic flair — bride in white and groom in black tux held at a hotel ballroom (or for those with a budget, a castle!) It's literally a fairytale come true, with lots of white, silver, and gold accents.
Top Floral Picks: Keep the affair perfectly pristine with White Roses and White Dahlias, that perfectly blends in with silver and gold details of the wedding.
Floral Fun Fact: Kim Kardashian and Kanye West had a romantic-themed wedding in Versailles, with lots of white flowers including rose centerpieces and flower walls.
2. King Protea & Philodendron Leaves
#Bohemian Bliss
One of the most popular themes in recent years, Boho-Chic is perfect for free-spirited couples who love hippie influences and effortless vibe. With this concept, brides and grooms can get creative, donning printed and colorful outfit, flower crowns, and chunky accessories. Plus, personalized and handmade decors!

Top Floral Picks: King Protea and Philodendron leaves and other foliage add an organic, earthy, and unique touch to the wedding.

Floral Fun Fact: King Protea is South Africa's national flower. It is a protected species of plant. It is important for couples who would like to use King Protea on their wedding to make sure that the flowers have been cultivated and not sourced from protected areas.
3. White & Blue Hydrangea
#Exquisite Elegance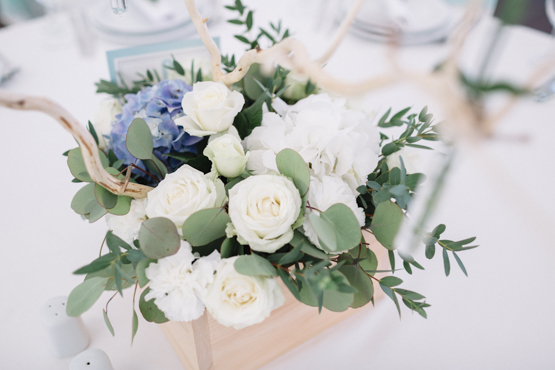 Just like the Romantic theme, the Elegance concept is the go-to motif of couples who love classic and timeless sophistication. Black tux, sequined dresses, two-tone or monochromatic blooms, romantic candles, soft music, and silver cutlery make up the celebration. Don't forget the sparkling champagne, of course!
Top Floral Picks: The mix of White and Blue Hydrangea gives off a quiet elegance that suits this kind of theme. No need for loud colors for this one. Simplicity is key.
Floral Fun Fact: There are about 75 species of hydrangea and they grow from early spring to late autumn. They are "thirsty" plants, meaning they should be kept hydrated when used for decoration. Katy Perry is also a big fan of hydrangeas.
4. Peach Roses & Peonies
#Classic Courtship
If you want simple yet chic and low-key yet luxurious, then this is the theme for you. Classic weddings are popular because they are traditional and transcends other passing trends. No over-the-top decors, loud-colored outfits, and extravagant accessories, just pure unadulterated romance. Soft colors and uncomplicated and subdued details make this one an awesome wedding motif.
Top Floral Picks: Peach Roses and Peonies give off a feminine and romantic touch to a classic wedding. Their soft colors highly complement the simplicity and charm of this motif.
Floral Fun Fact: In Chinese art, peony symbolizes peace, stability, and luck. The flower blooms from late spring to early summer, in time for warm-weather weddings. Nicole Richie and Drew Barrymore both had peony bouquets on their wedding.
5. Leather Fern & Eucalyptus Leaves
#Romantically Rustic
Rustic weddings have become popular in the past years because this theme lets couples be creative with their choices, with lots of dreamy handmade decors, unconventional centerpieces, and textured and bold wood details. Substituting regular accents like using bottles and jars instead of vases is encouraged. Usually done outdoors, this laidback motif is a sure way to make a fun and enjoyable statement on one's big day.
Top Floral Picks: A lush mix of ferns and eucalyptus leaves goes well with an outdoor rustic theme. This monochromatic greenery approach may be simple, but it effectively puts a unique and natural touch to the event be it via table runners, crowns, boutonnière, backdrops, or wreaths.
Floral Fun Fact: Fern has been used in weddings for bouquets, centerpieces, and floral textures since the 1900s.
6. White Anemone
#Beautifully Vintage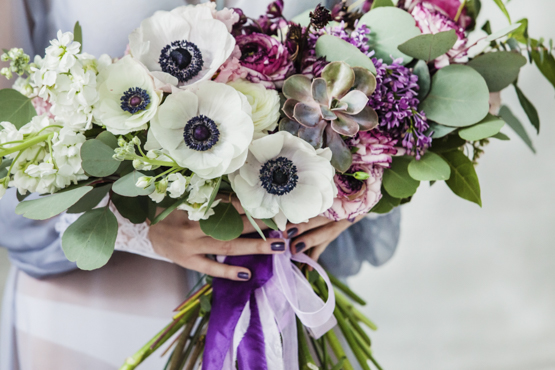 Inspired by the glamour of the past era, vintage-themed weddings exude an old and romantic vibe, complete with nostalgic black and white clothing, décor, and accents. Couples usually take inspiration from significant pop culture favorites like The Great Gatsby, Casablanca, or Breakfast at Tiffany's.
Top Floral Picks: White Anemone is always ideal for a vintage motif. This flower gives out an irresistible old-world charm to the event, from the bouquet down to the centerpieces.
Floral Fun Fact: Native to Europe, North America, and Japan, anemones come in various colors like red, yellow, purple, and blue, not just white. There are three types of this flower, one that blooms in the spring, the Tuberous Mediterranean which blooms both in summer and spring, and one that blooms during late summer and fall.
7. Calla Lilies
#Modern Magic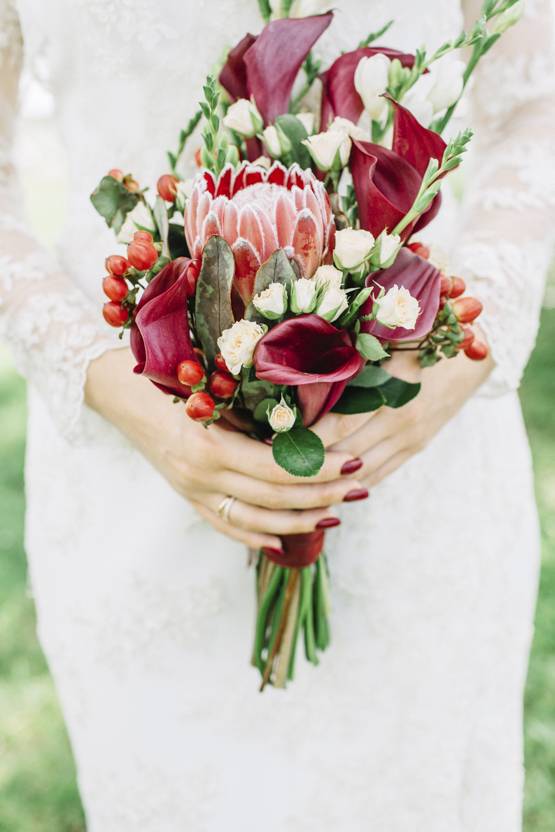 Ideal for couples who are fans of anything current and up-to-date, modern weddings incorporate clean lines, contemporary yet intimate wedding venues, unique floral details, and cool and non-traditional vibe.
Top Floral Pick: Calla Lilies are one of the top-of-mind floral picks when it comes to modern weddings. They are simple yet chic, virtually available all year round, and can be mixed with greens and other flowers or be arranged and used on their own.
Floral Fun Fact: Alicia Keys opted for Calla Lilies for her big day bouquet, complemented with wedding ivies.
8. Multi-colored Hydrangea
#Artistic Affair
Bold and colorful are probably the two words that will summarize what an artistic wedding looks like. From rainbows flower arches and dip-dye gowns to kaleidoscope of shades and funky details, couples go all-out artistic with this theme.
Top Floral Pick: Multi-colored Hydrangea's versatility suits an artistic wedding, from arches to centerpieces, they give off a pop of color that show the couple's fun and creative nature.
Floral Fun Fact: Fashionable actress Blake Lively used pink hydrangeas for her wedding bouquet.
9. Juliet Rose
#Glitz & Glam
When couples decide to go big on their wedding, a glamorous theme is only the fitting choice. It's all about stunning and intricate decors, grand and luxurious reception venues, and opulent and impressive ambiance. A monochromatic tone is key, with dramatic centerpieces and exquisite dining wares.
Top Floral Pick: Only the Juliet Rose comes to mind when planning a glamorous wedding. An opulent choice, the Juliet is beautiful, romantic, and a cut above the rest.
Floral Fun Fact: Juliet Rose is the most expensive rose variety. It took $5 Million to breed the Juliet.
10. Wildflowers
#Gorgeous Garden
Couples who love nature and the outdoors usually pick this theme because of its laid-back yet intimate mood. Ideal for warm-weather months, garden weddings are simple, chic, and ultra-romantic. Fairy lights, dreamy details, and beautiful tablescapes are the definite must-haves for this motif.
Top Floral Picks: Choosing Wildflowers (Poppies, Cornflowers, Knapweed, Lady's Bedstraw) for your garden wedding is the perfect and creative choice. They always add a carefree and colorful vibe to any outdoor event.
Fun Floral Fact: Wildflowers are hardy plants that require low maintenance and are almost available anywhere. There are about 6,000 species of wildflowers – endless choices for your wedding!
11. Pampas Grass
#Seaside Sweetness
Typically done during warm-weather months, a beach wedding is probably the most popular nuptial theme. Done in all parts of the world, this motif can be simple and gorgeous or romantic and glamorous, depending on the preference of the bride and groom. Beautiful wedding arches, simple floral details, and lots of ocean-inspired trinkets abound this kind of theme.
Top Floral Pick: Pampas Grass' uniqueness adds a dreamy feel to any beach wedding. They can also serve as great photo backdrops for the couple and the guests.
Floral Fun Fact: Native to South America, pampas is a decorative grass with plume-like panicles that come in different colors, like pink and silver.
12. Bougainvillea
#Dreamy Destination
Of all the themes, a destination wedding requires more time, effort, and of course budget depending on the location, the number of guests, and program. It can also be the most rewarding, as this type of motif tends to be unique, unforgettable, and personal. One of the most popular destination wedding locations is Greece, with its beautiful views, luxurious landscapes, and wonderful weather.
Top Floral Pick: Bougainvillea in full bloom will definitely leave the guests wowed at your Greek wedding. The country is littered with these beautiful blooms, making every corner of Greece the perfect wedding venue.
Fun Floral Fact: Bougainvillea blooms in Greece all year round because of the country's warm climate. The flower's bold and gorgeous colors create the perfect contrast to Greece's white and royal blue architecture.
13. Gypsophila
#Whimsical Wonderland
Vibrant and energetic, whimsical weddings are popular with imaginative and creative couples. This theme combines romance and fantasy, creating a magical event for both the couple and their guests. Whimsical celebrations are drawn from different inspirations like books, art, and even TV shows!
Top Floral Pick: Gypsophila takes center stage on a whimsical wedding as they add a dream-like ambiance to any venue. With these flowers, any wedding feels like a fairytale come true.
Floral Fun Fact: Gypsophila also known as Baby's Breath is the symbol of undying love, purity of emotion, and innocence. It is one of the most popular floral details in weddings and baby showers. Aside from white, this flower comes in shades of pink and faint yellow.
14. Succulents
#Fashionably Fancy
With the runway as its main inspiration, fashion-themed weddings are where everyone's dressed to impress. They are all about stunning style, chic centerpieces, dramatic details and decors, and of course, outstanding accessories. This motif is also not complete without a fabulous wedding gown and a couture cake!
Top Floral Picks: Succulents are unique, versatile, and come in different types, perfect for a celebration rooted in a couple's individuality. There are lots of amazing ways and ideas on how to utilize succulents creatively. Paired together with flowers of different hues, they can be used as cake toppers, backdrops, arches, wreaths, and centerpieces. A romantic cascading garland of succulents mixed with colorful blooms like tangerine ranunculus, roses, and peonies can be a unique accent to bride and groom chairs.
Floral Fun Fact: Succulents don't just come in green, they are available in various colors like blue, purple, pink, orange, and red – perfect for any wedding theme!
15. Sunflower
#Nice and Nautical
One unique approach to the typical beach and seaside wedding is going nautical with your theme. Beautiful blues and wonderful whites with driftwood details and cool centerpieces are the motif must-haves. Don't forget a reception at the marina or anywhere near the sea.
Top Floral Pick: Complement the blues and whites with a touch of sunshine using Sunflower for the yellow floral detail.
Floral Fun Fact: Twilight actress Nikki Reed and singer Kelly Clarkson both used sunflowers for their respective wedding bouquets.
16. Tulips
#Stylishly Stellar
The celestial trend is probably the most popular motif for weddings right now. Inspired by the galaxies and the outer space, this sparkly and heavenly affair boasts of glittery details and enchanting elegance that will leave the guests star struck.
Top Floral Pick: Dark-colored Purple, Black, and Maroon Tulips go perfectly with this motif, reminiscent of the beautiful galaxies and heavenly bodies. They also add a perfect contrast versus the event's glitter and shine.
Fun Floral Fact: Purple tulips represent elegance, true love, and grace. When handled properly, the flowers can last for up to ten days.
17. Orchids
#Jungle Love
This wedding motif is fun, colorful, relaxed, and refreshing. Couples can draw inspiration from their dream destination, with exotic flower centerpieces, tropical-themed menu, and jungle-inspired tablescapes.
Top Floral Pick: Orchids galore! There's nothing more tropical than wild and exotic orchids gracing your wedding. There's a wide variety you can choose from – Cymbidium, Dendrobium, Ladyslipper, and Phalaenopsis. The choices are endless!
Floral Fun Fact: TV actress Eva Longoria had a cascading white Phalaenopsis bouquet when she got married to basketball player Tony Parker.
18. Lily of the Valley
#Regal and Royal
Who wouldn't want to be married like a princess, right? This theme is all about romantic fairytale-like venues, brocade gowns, horse-drawn carriages, engraved invitations, and a grand entrance. Couples can set the mood by opting for grand decors and details like ice sculptures, five-course meals, overflowing champagne, and an orchestra to serenade the guests.
Top Floral Pick: Nothing screams "royalty" like a bouquet of Lily of the Valley. The flower has been used by royals in weddings in the past decades. Word of warning though: Lily of the Valley is highly poisonous and should not be ingested. It must always be kept away from children and pets.
Fun Floral Fact: Royals who have used Lily of the Valley for their wedding include Kate Middleton, Grace Kelly, Queen Victoria, and Princess Astrid.
19. Sempre Viva Flower
#Awesomely Organic
Neutral color tones, laid-back and relaxed vibe, and earthy details are some of the inspiration behind organic-themed weddings. Decors and accents use a lot of greens and browns, with a pop of color in between. Great for just about any season, this motif has one rule: stay natural.
Top Floral Pick: Sempre Viva Flor may be simple, but bundled into a bouquet with greens and blooms, it creates a beautiful yet sophisticated arrangement that suits the most magical weddings.
Floral Fun Fact: Found in Kythera Island, Greece, Sempre Viva is unique in a way that it can remain fresh even long after it has been picked.
20. Figs, Grapes, Cherries
#Fruit Pleasures
Aside from the traditional flowers, fruits are making a mark in wedding themes nowadays. With their varying colors, sizes, and looks, these delectable details are becoming fast favorites. In Mediterranean and Greek weddings, fruits like figs and grapes are centerpiece regulars.
Top Fruit Pick: With choices like figs, grapes, cherries and kumquat, this tasty trend is definitely here to stay.
Fruit Fun Fact: Try dipping the fruits in gold paint or cover them with glitter or sugar for some added glam. This is also a good way to hide the bruises and prolong the freshness of the fruits.
21. Cactus
#Desert Dreams
Couples who dream of a blazing time and a wedding that's too hot to handle should go for a desert-style wedding. This distinct event branding is exciting because it lets the couple transform a barren space into an epic and majestic venue – with decadent details, fashionable patterns, and earthy color tones. Don't forget the wood, leather, and tribal touches!
Top Floral Pick: What's interesting about Cactus wedding decors is that they are long-lasting (heat tolerant!), economical, and readily available almost all-year-round. They're also perfect for just about any style, from the most colorful weddings down to the simplest ones.
Floral Fun Fact: There are more than 2,000 species of cactus, and some can survive for 300 years. Aside from being used as wedding décor, cactus can be used as a wedding favor, too.
22. Jasmine or Lavender
#Fragrance Fantasy
Weddings are usually visual feasts, where colors and designs take the lead. One unique approach couples can do is take things to a whole new level is have an olfactory-themed party, using the sense of smell as the main element of the concept. Heavenly scents and romantic ambiance – just the perfect combination!
Top Floral Pick: Jasmine adds a light and distinct fragrance to bouquets, centerpieces, and decors. Its white color also blends well with different wedding styles and motifs. Lavender on the other hand adds not just a pop of color but also a sweet and calming scent that the guests will enjoy. It's great for bouquets, favors, and even as food and drink garnish!
Floral Fun Fact: Jasmine symbolizes love, purity, and promise. It's popular with perfumers and herbalists because of its various uses.
23. Annatto
#Peculiar Tropical Paradise
This bouquet of annatto and bougainvillea is quirky and unique — perfect for a beach bride getting married by the sea. Annatto is not a usual choice and is typically used for culinary and medical purposes, but it's vibrant red color blends well with crimson-colored blooms to create a floral mix fit for a wedding in paradise.
Top Floral Pick: Annatto, a native plant of Brazil, bears unique-looking hairy red fruits that can be used as complementing ornament to centerpieces and bouquets. It's a great floral choice as the fruit doesn't easily wilt. Its striking red color instantly add a pop of vibrancy to any wedding décor.
Floral Fun Fact: The annatto fruit actually contains seeds that are used for culinary and coloring purposes. Annatto is also called "lipstick plant" because of the red color from the seeds, which some people also use for dyeing.
24. Herbs
#Doctor Love
Another trend in wedding motifs that's becoming more and more popular is mixing style with utility. Proving that events can be pulled off even without flowers, herbs are now enjoying the spotlight for their beauty, fragrance, culinary and healing properties, and simplicity. They can virtually be used for just about anything – bouquet, garlands, centerpieces, cake décor, favors, and even in your menu!
Top Floral Picks: Herbs like Rosemary, Oregano, Sage, and Basil can be used for bouquets and centerpieces. They are also perfect for infused oil wedding favors and giveaways.
Floral Fun Fact: Not only herbs are pretty, they are also useful in repelling insects like mosquitoes and flies, making them great reception centerpieces and buffet table accents.
There are still countless of floral options for all the themes listed above. The best way to achieve your dream wedding look is to visualize what you really want to happen, research for all the possible options, and lastly, consult with your coordinator and florist. The secret is to be bold, be creative, and have fun.