Weddings are fun and exciting affairs where people gather to celebrate a couple's happily ever after. There's food, music, and never-ending exchange of stories, laughter, and unforgettable moments. One thing to ensure that your big day will not pass as just another ordinary wedding is by infusing entertaining activities and giveaways that your guests will enjoy.
Wedding corners are artistic nooks where your guests can flex their creativity either through a touching message, a colorful token, or even photo – all they can take home as a favor or remembrance of your wedding. In this article, we have listed down unique wedding corner and activity ideas for your fairytale ending. Read on for awesome and romantic concepts which you can use.
Customized Blooms and Florals
1. Petal Bar
2. Flower Crown Corner
Gifts & Favors Corner
3. Hats
4. Fans
5. Flip Flops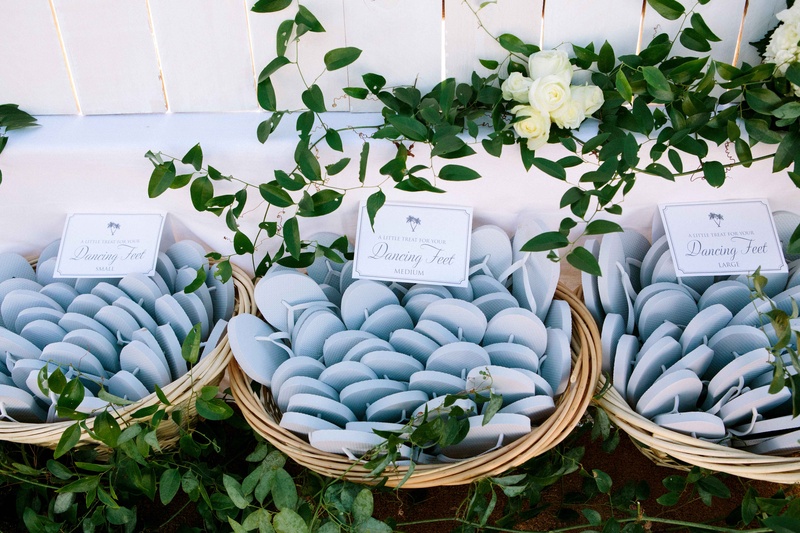 Lastly, a beach wedding won't be complete without flip flops! Get your guests to kick off their shoes and relax with a comfy pair. Go with monochromatic ones or be quirky with different colored pairs.
6. DIY Stamp Printing
Send Off & Toss Ideas
7. Balloons
8. Lantern
Light up the sky with romantic lanterns that signify the start of your happy ending. Have someone with experience with this type of send-off handle the activity to ensure the safety of everyone. And lastly, make sure that your location or venue has the proper permit or is authorized to hold such type of send-off.
9. Rice
If you're having a Greek destination wedding, add a local touch to your celebration by having a rice toss instead of the usual petals or confetti. This popular wedding tradition symbolizes not just prosperity and good fortune but fertility as well.
Food & Dessert Bars
10. Fondue
11. Beer and Pizza
12. Popcorn Cart
13. Cupcakes
14. Donut Wall
Getting pretty popular now are donut walls which are a unique way of serving these round sweets. You can have fun with the design depending on your wedding theme – a wall (or wheel!) of donuts. Include all-time favorite flavors as well as unique ones that the guests can only taste at your wedding.
15. Candies, Cookies, and Chocolates
Who could ever resist candies and chocolates? No one, that's why they're the most ideal treats to serve at your wedding. Have a table overflowing with these sweet treats or put them in cute bags which your guests can take home for later consumption. Include favorite sweets from childhood to make everyone feel nostalgic and happy.
16. Macaron Tower
Drinks & Refreshment
17. Prosecco Van
It's your wedding, and you need someone (or something) to "deliver" the goods. A prosecco van is just what you need! Perfect for wine-loving couples and guests, all you could ever need to make the affair extra bubbly and stylish are in this van. This on your big day? Wine not!
18. DIY Drinks Bar
19. Fresh Juice Bar
Refreshing drinks for everyone! No alcohol for this one, too! If you want to keep it wholesome and healthy, having a fresh juice bar is key. Provide different variety from oranges and berries to exotic flavors like passion fruit and even coconut. Yum!
Luxe Indulgence
20. Cigar Bar
Add a unique touch to your event by setting up a cigar bar for your cigar-loving guests to enjoy. Having such a corner will really define your event. For completing the atmosphere you should choose good cigars for your guests such as trinidad cigars or san cristobal cigars. This corner is a unique complement to your wine and cocktails, making your reception not just fun and romantic but a night of indulgence and sophistication, too. Put someone in charge for this, gathering all the necessaries like various types of cigars plus lighters. Make sure that the bar tucked somewhere where the guests won't be bothered by the smoke.
21. Whiskey/Bourbon/Scotch Bar
It's undeniable that any of these three perfectly pairs with a cigar, so why not have a table for them, too? Label the bottles with the age and distillery. Provide a short description of each, with information about the taste notes and the origin of the bottle.
22. Beer Pong
If you want a more relaxed and laidback treat for the guests, have a beer pong table instead! Create a fun competitive atmosphere between the male and female entourage by grouping them into two. Give the winning group a special prize.
23. Vanity Corner
24. Perfume Corner
Give your guests an instant confidence boost with a spray of your favorite scent. Set up a table with a selection of you're the most popular perfumes where they can choose which one currently fits their mood. A spray of sexiness will do the trick!
25. Mimosa Bar
Fun and Entertainment
26. Open Mic/Karaoke
Sing the night away! Hire a band to play your favorite tunes. Set up a small stage where your guests can perform and unleash their inner star. It's romance and rock and roll in one!
27. Temporary Tattoo Corner
One of the popular wedding trends right now is having a temporary tattoo corner on your wedding. All you need are simple tools to pull this off — personalized sticker tattoo, cloth and cotton, water, and alcohol. Easy and fun for all the guest.
28. Henna Tattoo Corner
29. '80s-inspired Arcade
Memories and Wishes
30. Love Notes
31. Time Capsule
32. Polaroid Corner
Don't stop at just messages! Another great idea for your well-wishes notebook is capturing photos of your guests via Polaroid and sticking their photos next to their notes. This way, when you revisit your scrapbook in the next few years, you'll have a vivid memory of how everyone looked so happy on your big day.
33. Photo Booth
Hire an old school photo booth and let your guests have fun with it. Provide some fashion items like hats, masks, quirky glasses and other items which they can use as props for their snaps. The photo strip can serve as your wedding favor. Another idea is the guest keeping the first half of the strip and the couple keeping the other half.
34. Video Booth