You have found the perfect dress, now it's time to search for the perfect bling to complete your big day look! Brides may have their own different favorites and preferences but one thing's for sure, there are wardrobe staples that should be present on your wedding day – hair accessories, veil, shoes, and even jewelries. These items instantly glam you up into a glowing and gorgeous bride.
In this article, we'll walk you through the various types of accessories to incorporate in your look. Read on to find which ones suit your wedding theme and personal style.
Head-turning Treasures
Accessories to keep your hair glorious and gorgeous
One of the most noticeable part of your bridal look is your hair, so it's recommended to take some time and plan the best way to accessorize it. Short of long, wavy or straight, there's a hair piece for you.
1. Headband
A halo of happiness
This classic hair accessory is popular to brides for its versatility. There is a headband for any bridal look – from classic down to bohemian. It's easily accessible, too, as it can be purchased from bridal boutiques, shopping centers, and even online. You can DIY, too!
A. Mesh
If you're looking for a vintage look, a mesh headband is perfect – you'll feel like a '50s goddess!
B. Feather
Another retro pick, a feather headband adds a unique touch to your outfit. You can rock this whether you're working a vintage or bohemian look.
C. Floral
Accentuate your locks with pretty floral perfect for outdoor and laid-back affairs. You can match your floral headband with your bouquet for a more cohesive finish.
D. Beaded
Simple yet stunning, beaded headbands are creative, with designs that can go from simple to intricate. If you have a love for crafts, you can make this a personal project before the wedding!
E. Metal
One of the most preferred due to versatility, metal headbands have a wide selection depending on design and material. You can go with plain ones or splurge it up with jewels, fancy stones, or peals.
F. Bow
Even a cute accessory like a bow headband can create a big difference in your overall look. You can also have fun with this as you get to decide how big your bow will be. Keep it simple with a small one or fun and quirky with a big and bold one.
G. Pearl
Pure and delicate, a pearl headband is the ideal match for the classic bride. It suits just about any gown and hairstyle. Simply pretty!
Material: Metal with Embellishment
Price: $$ – $$$
2. Floral Crown
Freshness and perfection
Highly popular nowadays, floral crowns are fresh, fab, and fashionable. You can get creative with your crown and can choose an assortment of blooms for a burst of colors or can go with a monofloral approach. You can also use greens instead of flowers for a more natural touch.
Material: Fresh Flowers
Price: $
3. Bobby Pins
Pretty as a pin
These mall yet stylish hair accessories are not just pretty but also functional, especially when you want to keep hair out of the way. You can choose various designs that will suit your style, too.
Material: Metal with Embellishment
Price: $ – $$
4. Tiara
Fit for a princess
Tiaras have always been a favorite with their classic and princess appeal that make a bride simply stand out. Tiaras can go from really extravagant made with precious tones or simply made with rhinestones and beads. Whatever your style and budget is, there's a tiara that will suit you.
Material: Metal with Jewels
Price: $$ – $$$
5. Hair Comb
The partner for your hair
Hair combs are style staples for classic and sophisticate bride. These combs can go from simple to ultra-glamorous, depending on the embellishment. It's versatile too and can be worn for different hairstyles.
Material: Metal with Embellishment
Price: $$
6. Turban
Wrapped and wonderful
Old world glamour meets modern woman with a turban headpiece on your wedding. This unconventional accessory choice will surely give you a one-of-a-kind look on your wedding day.
Material: Fabric
Price: $ – $$
7. Hair Clip
Cute and chic
Hair clips are handy, chic, and elegant, that's why most brides choose this as their go-to wedding accessory. Pearls, beads, gems – lots of varieties to choose from.
Material: Metal with Embellishment
Price: $ – $$
8. Hair Chain
Chains of romance
Feel like a bohemian goddess as you walk down the aisle with a sparkling hair chain. This unique accessory will help you make a stylish statement on your wedding day.
Material: Metal with Embellishment
Price: $$
9. Halo
Angelic awesomeness
Exude an innocent aura with a halo on your hair. This accessory instantly creates a dreamy and angelic bridal look.
Material: Metal with Embellishment
Price: $$
10. Hair Vine
Leaves of luxury
Long and luscious locks? Ditch the updo and highlight your hair with a hair vine instead. Go with a thick braid or let your hair beautifully flow freely.
Material: Metal with Embellishment
Price: $$
11. Olive Leaves
Leave them in awe
If you love nature and you're for all things fresh and natural, an olive wreath is for you. It's a great way to show you delicate and down-to-earth side.
Material: Fresh Leaves
Price: $
12. Beret / Fascinator
Fascinate with fashion
If you're an artsy bride, adding a personal touch to your look is a must-do. Instead of the usual accessory, try on a beret for a stylish, standout, and spunky look. If you're after a royal aura, a fascinator with a unique design will complete your wedding day wardrobe.
Material: Fabric
Price: $ – $$
13. Hat
Hottie in a hat
Make a statement on your wedding day by arriving in a hat! This is a unique and fun approach to your bridal look that will surely surprise your guests.
Material: Fabric or Leather
Price: $ – $$
14. Veil
Veil-y stunning and beautiful
A bride's look is not complete without her veil. Not just an accessory, the veil represents symbolizes innocence and purity – brides from all walks of life possess. Finding the right veil is does not end with how pretty it is, it's also making sure that it matches your whole look, especially your dress.
A. Birdcage
Perfect fit for short wedding dresses, a birdcage is a cropped veil that exudes a cool vintage vibe for the retro bride.
B. Blusher
Be a blushing bride with a blusher veil on your wedding! An all-time favorite, a blusher is usually bust-length, just enough to conceal the face, and made of soft tulle.
C. Mantilla
Circular in shape, a mantilla veil is made from a combination of tulle and lace. A romantic bride's dream, it has an old-world appeal that never goes out of style. It is usually worn framing (not covering) the face.
D. Tiered
Be a blushing bride with a blusher veil on your wedding! An all-time favorite, a blusher is usually bust-length, just enough to conceal the face, and made of soft tulle.
E. Fingertip
If there's one veil style that suits just about any wedding dress, it would be the fingertip (because yes, the length touches the fingers!). Just like the mantilla veil, fingertip veils are made with tulle and lace.
F. Ballerina
If you want something long but not too long, ballerina style is for you. It can go from knee to ankle, and it usually made with soft tulle for a dreamy effect.
G. Cathedral
It's go big or go home when it comes to cathedral veils. It goes well with grand gowns and the overall look is fit for a princess. These veils can go anywhere from ten to more than twenty feet.
H. Elbow
If you're welling a ball gown on your big day, it's best to complement it with an elbow veil. This works as the veil's length elegantly ends where the skirt begins.
Material: Tulle or Lace
Price: $$ – $$$
Beauty and her Bling
Jewels to keep you shining and sparkling
One of the finishing touches to your wedding day look are your jewelries, helping you shine and stand out above the rest. Dazzle your guests with gems or go for unconventional designs, just make sure that your jewels match not just the rest of your accessories but your whole bridal wardrobe.
15. Earrings
Glow from ear to ear
You will be smiling from ear to ear when you see how gorgeous you look with the perfect pair of earrings. They don't need to be flashy, the just need to complement your overall look.
A. Chandelier
These statement earrings are ultra-stylish that come in interesting shapes and embellishments. There's a chandelier earring for all types of brides, from classic and chic down to boho and beautiful. For a more formal celebration, you can go with a diamond studded one or for a more casual affair, a beaded chandelier earring will do the trick.
B. Hoop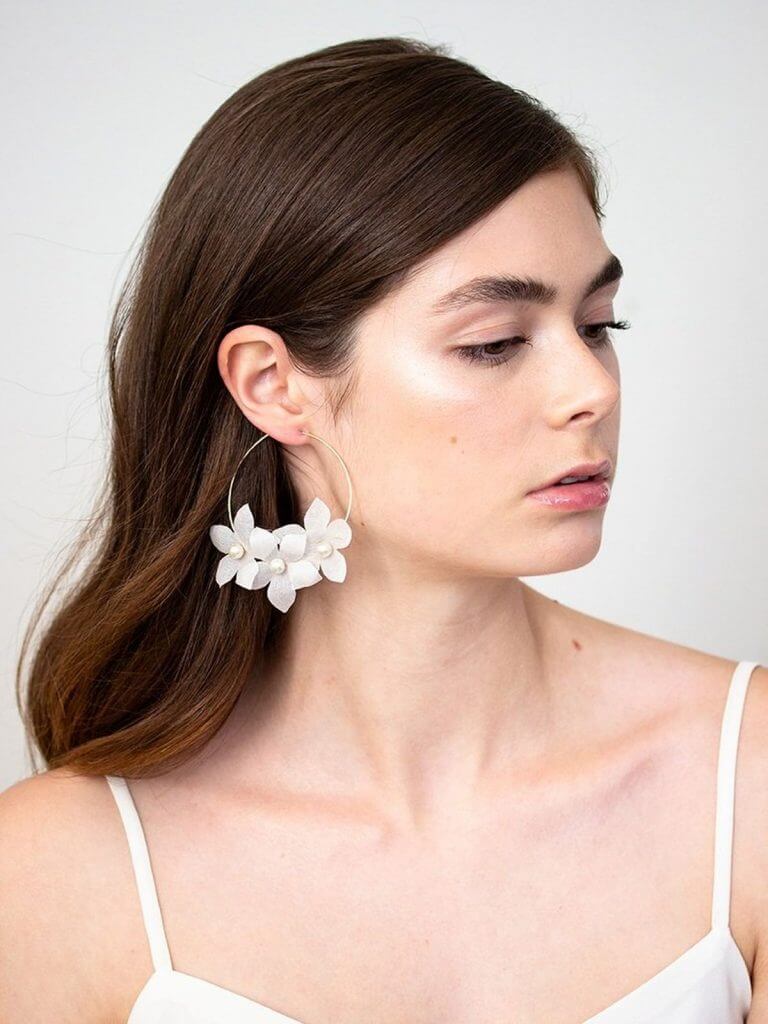 This timeless piece will surely put in additional sparkle to your style as you walk down the aisle. Effortlessly elegant and simple, hoop earrings match just about any gown that's why it is one of the all-time favorites.
C. Tassel
Tassel earrings are funky and ideal for the artsy bride. You can make your own statement by incorporating beads or crystals, depending on your overall wedding day look.
D. Stud
Simple and classic, stud earrings are always a favorite as they fit just about any look. But don't worry that you won't get to standout with a low-key accessory like this, dazzle them with a pair of diamond studs and sparkle all throughout the night.
E. Ear Cuffs
Not your ordinary ear accessory, cuffs are for daring brides who would like to make a statement on their big day. These earrings are brilliant, bold, and beautiful, just like the bride who's wearing it.
F. Mismatched
Add a fun twist to your bridal look by donning a pair of mismatched earrings! It can be two of your favorite pieces, heirloom jewelry, or your latest purchase. The quirkier, the better!
G. Linear
Linear earrings add an elegant finish to one's big day look. The simple line of jewels, pearls, or even chain are enough to add sparkle to an already glowing bride.
Material: Embellished Metal
Price: $$ – $$$
16. Necklace
Your strings of charm
You can go with a bare on your big day, but one way to radiate is by wearing a beautiful and sparking necklace for a graceful glamour.
A. Choker
Exude some Victorian vibe with this timeless piece. Chokers are pretty and intricate, usually crafted with beads and crystals and finished with a soft ribbon to be tied at the back for a cute bow.
B. Collar
Up your bridal look with a charming collar necklace. Unlike a choker that fits the neck, a collar necklace lies flat at the base of your throat.
C. Pendant
If you have heirloom jewelry you want to incorporate in your look, using it as pendant is the key. Pendant necklaces are timeless and romantic. You also get to choose which or what type jewel – gems, crystals, or pearls – to use.
D. Locket
Lovely lockets are statement necklaces you can wear on your wedding. The locket can be a family jewel or one that bears you and your partner's initial. You can also hand this down to future kids which they can also use for their wedding. So romantic!
E. Lei
Yes, you can use fresh flowers, too! Outdoor or beach brides can sport stunning and colorful leis on their wedding. Best to match it with your crown or bouquet!
F. Bib
Bold and brilliant, bib necklaces are big on details and embellishments and come in different colors. From beads to crystals down to precious gems, you can never go wrong with this kind of accessory especially if you have a low-neckline gown.
G. Pearl
Pearls are pure and timeless, just like the classic bride. These lustrous gems come in different colors like pink, purple, yellow, and green and fit just about any bridal style. An elegant string of white pearls can dramatically improve a simple bridal look into something stylish and stunning.
H. Esclavage
These intricately designed and detailed pieces are not your usual necklace. Fit for a bohemian queen, esclavage necklaces are made of three strands of either gems, pearls, or beads.
I. Y-Shaped
Curvy brides rejoice, here's the perfect necklace for you! It's edgy and has the perfect silhouette to complement your figure. It goes well the deep-v dresses and halter tops.
Material: Embellished Metal
Price: $$ – $$$
17. Bracelet and Anklet
Add some circles of sparkle
And while we're at it, you should never forget to accessorize those delicate wrists and ankles. Bracelets will give you sparkle and spunk as you walk down the aisle. And just because they're hidden (in case you're wearing a long gown) doesn't mean your ankles don't deserve their own bling. There are a number of ways you can pull this off with interesting pieces that are not just fashionable but also unique.
A. Bangle
Bangles are fun, funky, and fashionable. Usually worn in multiples, bangles come in simple gold or silver or are embellished with gems and stones. It's especially popular and a must-have accessory for Indian brides.
B. Cuffs
Bridal cuffs are luxurious and chic, embellished with crystals or breads and finished with a soft ribbon to tie around your wrist. An ongoing trend right now, brides forego bouquets and use floral cuffs instead.
C. Charm
Charm bracelets are romantic and personal. You can add in as many charms as you want, something significant for you and your big day. What's good about this is that charm bracelets can be used for daily wear, too!
D. Floral
A fresh take to bracelets, going floral means that you have a colorful ring of blooms around your wrist, adding a vibrant touch to your look. The sweet scent is also a plus!
E. Shell
Be a sea goddess on your wedding with a pair of shell anklet and bracelet. These laid-back pieces are cheap yet chic. You can also DIY this using shells from you and your partner's favorite beaches. Made with love!
Material: Embellished Metal or Flowers
Price: $ – $$$
Fairy Tale Fashion
Pieces to make you look pretty, perfect, and flawless on your big day
18. Gloves
Something fit for a queen
Make your look totally complete with a pair of delicate gloves. There are no strict rules about wearing gloves, whether your celebration is formal or casual, just make sure that they are of the same shade as your dress.
A. Opera
Simply timeless, opera gloves add elegance and style to your wedding day wardrobe. These gloves go well with strapless or short-sleeved gowns and dresses. In terms of length, they usually end just above the elbows.
B. Elbow
Simple and fuss-free, elbow gloves easily fits the minimalist and sophisticated bridal look. They add style but don't steal the focus from your stunning gown. When worn, elbow gloves fit just below the elbows.
C. Wrist
A classy finish to your bridal ensemble, wrist gloves are the perfect pair to your long-sleeved gown. They can come in plain or embellished satin or in a much detailed and delicate lace.
D. Fingerless
Fingerless gloves are sassy and stylish and can be worn all throughout the fair. What's awesome about fingerless pairs is that you don't need to remove them during the ring exchange. It is also versatile as you can wear one either in opera, elbow, or wrist length.
Material: Satin or Lace
Price: $ – $$
19. Belt/Sash
The figure of perfection
One wedding accessory that sometimes gets forgotten is the belt or sash. Although it's best to remember that over-accessorizing can ruin a great look, adding a simple detail like the sash can do wonders to a plain wardrobe. The best way to pick the right belt is by placing it at the bust line to check which one suits your torso best.
A. Ribbon or Fabric
A simple silk belt refines a bridal look. This fuss-free accessory is plain but once worn create a beautiful silhouette. Bring it up a notch by adding bling such as a brooch.
B. Pearl
Go fancy with your dress and wear it with pearl. If you have a heavy upper torso, a simple string of this belt can complement your figure. Just make sure to not fasten it too tightly to avoid discomfort as you celebrate your special day.
C. Bejeweled
Mix up a rather plain gown with a bejeweled belt for a sparkling look! You can go with a preferred texture, be it beads, crystals, and raffia florals.
D. Floral
Fresh or fabric, floral belts are cool and chic. If you want to add a natural and lush touch to your dress, go with fresh blooms that complement your dress. If you want to go pretty traditional, a fabric flower can do the trick.
Material: Embellished Fabric, Ribbon, of Fresh Flowers
Price: $ – $$
Sweet and Sultry Statement
Sexy all through the night
Just because they can't be seen doesn't mean you don't need to give them attention. Add a boost of confidence with sexy and intricate undergarments to spice up your wedding outfit.
19. Garter
Always a great catch
Considered as a bride's good luck charm. The main function of your garter (aside from the tradition of groom removing it) is to actually hold your stockings in place. It's best to place it not too low to ensure comfort all throughout the celebration. Since it won't really be visible to everyone, you may choose your own set that fits your style.
20. Corset
Finding the perfect figure
Of course, you'd want to highlight your figure and get rid of unwanted bulges on your wedding day and the best way to do that is by wearing a corset. To pick the perfect fit for you, make sure that it is comfortable and made of breathable material like spandex. This is a great outfit idea for your boudoir shoot.
21. Lingerie
Sexy and sweet
Head straight to your honeymoon feeling confident and sexy with the right lingerie. Again, just because none of the guests won't see it doesn't mean you won't put in too much effort. Wearing a beautiful and comfortable underwear gives instant confidence boost, something you'll definitely need for the most special day of your life. From luxurious lace pieces to tempting bodysuits, you will never run out of options. Another great idea: wear this on your boudoir shoot!
Material: Lace or Satin
Price: $ – $$
A Bagful of Beauty
Don't contain your happiness, just your essentials
22. Purse
Everything's right in the bag
You would want to bring along some essentials on your wedding so it's best to have a small yet fashionable pouch for all your needs. You can have one made to match your wedding gown or use a favorite one with sentimental value – your wedding, your rules.
A. Box
If you want to keep the bling and sparkle going, an embellished box clutch will be the right fit. It has enough space to fit all the things that you need and the right gems to keep you shining all night.
B. Round
Handy and sophisticated, round bags are easy to carry around and won't wear you down. You can choose one with a simple design or one that will dazzle all the guests.
C. Embellished
Crystal, beads, pearls, embroidery — there are a number of ways to embellish your bridal bag. Make sure that the color and style fit your overlook look and to not over accessorize.
D. Bow
Sweet and romantic, a bow bag is a fantastic and feminine accessory to complement your outfit. The bow can come in simple minimalist size or big and bold, depending on your preference.
E. Pouch
This is a classic choice for brides everywhere as pouches are light, easy to handle, and has a lot of space for all your personal stuff. Pouches come in different designs, with pretty pearl handles or sleek satin ribbons.
F. Fringe
Funky and fashionable, fringe bags are perfect for the modern bride. The fringes add a magnificent texture to the accessory – something that will make your guests take a second look.
G. Brass
Cool and chic, bohemian brides love brass bags. They are unique and one-of-a-kind, something that complements a rustic and laid-back celebration.
Material: Leather, Metal, or Fabric
Price: $ – $$$
That Cinderella charm
Shoes that you won't leave behind
23. Shoes
For a wonderful walk down the aisle
Picking the right shoes is just as important as choosing the right dress – it has to be stylish, comfortable, and the perfect size. There's always "the one" that will make you feel like a fairy tale princess once you have worn it. Always remember that comfort should come first when picking the right pair. You wouldn't want blisters and bruises ruining your night.
A. Pumps
Elegant and timeless, pumps are bride favorites for their simplicity and no-fuss function. The give you the additional height, too. Pumps come in different designs like open-toed, stilettos, sling-back, and wedge.
B. Flats
If you want to feel ultra-comfortable on your wedding, flats are for you. Great for outdoor weddings so you won't worry about heels getting stuck in mud or sand. Plus, you can freely move and dance without worrying about tired and achy feet later.
C. Strappy
Strappy shoes are super sexy, the ideal match for a seductive bride. Straps can go from cute ankle-length and can go high up to your knees. They are great for both formal and casual affairs – fun and flirty!
D. Boots
A lasting romance calls for a pair of hardy boots. Be it vintage Victorian, modern and luxurious, or cowgirl-inspired, boots are a cool shoe choice for your big day.
E. Sandals
A beach bride needs a dependable sandals for her special day. They are easy, fun, and laid-back and are the perfect fit for casual outdoor affairs. Something that will keep your feet comfy and relaxed the whole day.
F. Barefoot Sandals
Yes, you can go barefoot on your wedding! Be a boho goddess and adorn your feet with barefoot sandals – hip accessories designed with stones, lace, or crystal – something to add sparkle and shine as you walk down the aisle.
Material: Embellished or Plain Leather, Fabric
Price: $ – $$$
Invisible Inspirations
Radiate from the inside
There are other bridal "accessories" that you should not overlook when preparing for the most romantic day of your life. They give instant boost of confidence and instantly uplifts your mood and spirit.
24. Perfume
Spray your favorite perfume before you walk down the aisle and surround yourself with a cloud of sweet scent. To make the smell last longer, apply petroleum jelly on your pulse points before spraying.
25. Confidence
A confident bride is a beautiful bride. There's no reason to be nervous on your wedding day as your wedding planner will make sure that everything will go according to plan. For bumps along the way, just dance it off and enjoy the night away surrounded with the love of your life, your friends, and family.
26. Your Brightest Smile
Walk down the aisle with your brightest smile and radiate love and positive aura on your big day. A bride's smile can light up a room, so don't forget to flash those pearly whites as you walk towards your forever.
Make the Best Out of Your Wedding!
As a destination wedding planner in Greece, Make Happy Memories is looking forward to helping you achieve your dream wedding! Contact us today.