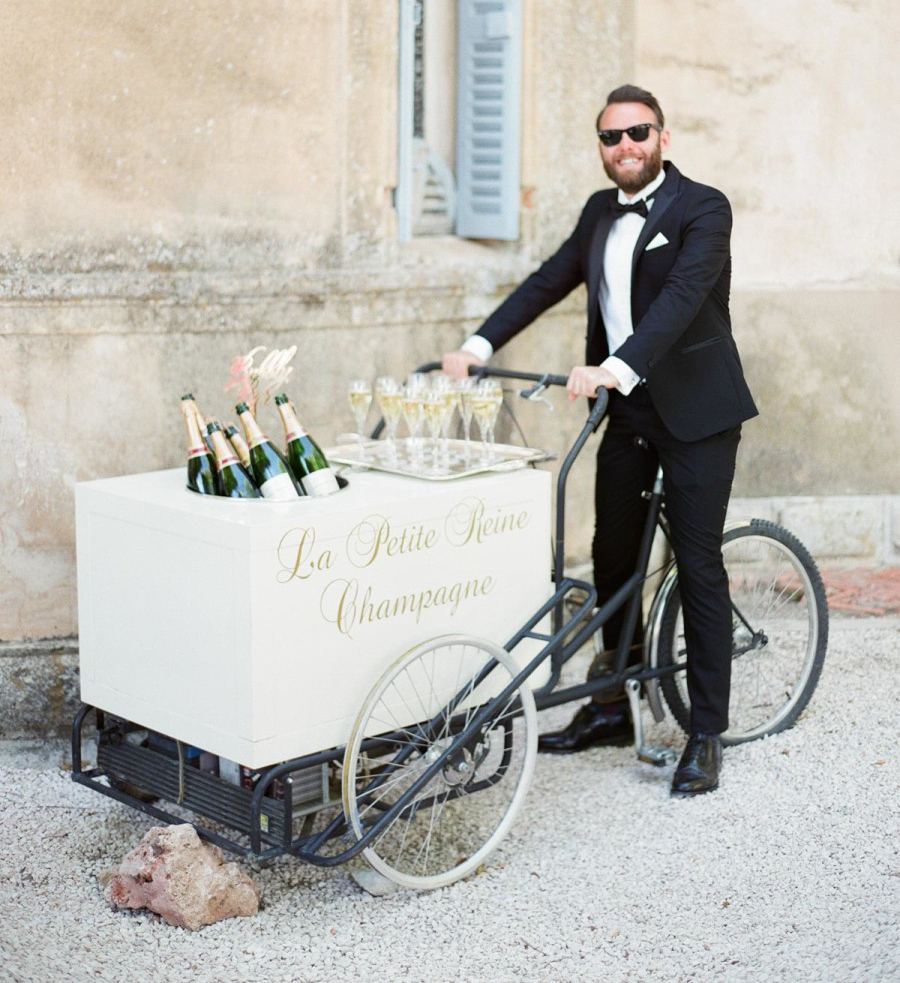 Once you've said your vows, and the reception meal is done, there's nothing more essential than making sure everyone is having a good time. That's why wedding bars are so important. They offer a chance for your guests to top up their drinks, chat with each other and of course, find a glass to raise a toast to the bride and groom. We've put together ideas that will please the bride, the groom and your guests – with stylish details, surprise elements and bars with a twist, you'll want to Pinterest everything on this page!
There's a perfect wedding bar for you, no matter what kind of wedding vibe you're going for. From cocktail bars and lounge bars to drinks bars, sweets bars and bars serving nibbles and champagne, check out our definitive list for plenty of inspiration. Whether you have one bar or several at your wedding, a decent, well-stocked bar is sure to become the centre of attention (apart from the happy couple of course!)
The Classy Cocktail Bar
#Mr&MrsFavourite
The Beer On Tap Bar
#Groom'sFave
Everyone loves a beer to get them feeling mellow. There are some really imaginative ways to integrate a beer bar into your event. Try a self-serve style bar with beer on tap, so guests can serve themselves from different varieties. If you prefer to buy bottles, why not store them in ice in a beer boat in open kegs to add more authentic beery appeal?
Wonderful Wine Bar
#GuestFave
Make Mine A Mimosa Bar
#Bride'sFave
Mimosa's are sure to please all the women at your wedding. Sparkling and fruity, these classic cocktails are ideal for serving up on the lawn at your wedding reception. Accessorise your bar table with balloons or oversized labels on jugs of juice, or add a dash of colour by having bowls of raspberries and strawberries for guests to pop into their mimosa glass.
The Champagne Bar
#Mr&MrsFavourite
The Prosecco Van
#Bride'sFave
Prosecco might as well be Champagne these days – everyone loves it – even the boys. Sparkling, delicious and always ready to add some extra fizz to your evening, a Prosecco bar is fast becoming a must-have for many weddings. The Prosecco van is one of our favourite ideas. Simply hire a vintage style serving van, decorate with floral garlands and fairy lights, add some swirly signage and pack it with Prosecco, it will be an instant hit, we promise.
DanceFloor Shots
#GuestFave
Open Bar
#GuestsFave
Sangria Station
#GuestFave
Bourbon Bar
#Groom'sFave
Artisanal Ale Bar
#Groom'sFave
Cider Bar
#GuestFave
Decadent Decanter Bar
#GuestFave
DIY Liquor Bar
#Groom'sFave
Need a reason to create your own liquor? Now you have one. Adding a DIY liquor bar is a great way to add a personal touch to the proceedings and to give guests something unexpected. Whether you make your own sloe gin or hooch, you can present your wares in personalised bottles, shot glasses or mini decanters. Just don't forget to have some mixers on hand!
TeeTotally Awesome Bars
#Bride'sFave
Refreshment Bars
#Mr&MrsFave
Cigar Bar
#GroomsFave
Wicked Whisky Bar
#Groom'sFave
Traditional Boozing Bar
#GuestFave
Cool Coffee Bar
#GuestFave
Everyone loves a coffee, especially on a long day celebrating so it makes sense to perk everyone up with a coffee bar. Whether you choose to hire a vintage style coffee van or simply have a table with self service coffee in vats with taps, make it look special by using colour co-ordinated cups and having some eye-catching bunting to alert everyone where to get their caffeine fix.
The Best Ways To Present Your Wedding Bar
Want to be original with your wedding bar? Instead of your traditional trestle table and tablecloth combo, experiment with something that will surprise your guests. Wedding bars, no matter what they are (refreshments, mimosa or beer bars) can be presented with charm.
Choose from vintage style bar carts, reclaimed hot dog vans, ice-cream carts or even tin baths to store ice and bottles in. Thinking outside the box can really come into its' own here. For something truly special try suspending tables from tree branches with rope. Or to present tables with style, carefully choose your glassware and decanters to echo the theme of your overall wedding, whether it's rustic, classic, glamorous or bohemian, there's sure to be some glassware that's right for you.
Whether you choose to dress your bar with flowers, garlands, bunting, strings of lights or even candles, aim to create a romantic, fun mood that all your guests will appreciate.
Glorious Details
You get out of a bar what you put in – so the more creative and fun your bar, the more excited your guests will be. Add personal touches to your bar that will show the attention to detail you've put into the wedding to make sure everyone has a wonderful time. Try personalising your drinks with calligraphy decorated napkins, drink stirrers or blackboard signage that has a play on words. Got a Prosecco Bar? A sign saying "Pimp Your Prosecco" is playful, while a sign with "Ale-ways Right' is a fun way to draw attention to it.
Give a sign
Other signage ideas include neon lighting signs, light up individual letters or traditional chalkboard menus or even bunting announcing what guests can expect from the bar, e.g. Lemonade, Coffee or Wine.
How to Stock the Bar at Your Wedding
If you intend to stock the bar yourself firstly make sure there isn't a corkage fee at your venue, if there is you'll need to account for this in your budget. Calculate how many guests you have and the likely amount they're going to drink. Most people have one glass per hour, or around five drinks over the course of an evening, but this is approximate – you'll always get some guests who drink more and some that drink less. You're going to want to make sure you have all the essentials covered – beer, mixers, fruit juices, wines, spirits, beers, ciders and water.
We've put together a shopping list for a wedding with 100 guests.
Beer: 120 bottles or cans
Whiskey: 1 litre
Bourbon: 1 litre
Gin: 2 to 3 litre
Scotch: 2 litres
Rum: 2 litres
Vodka: 6 litres
Tequila: 1 litre
Champagne: 36 – 44 bottles
Red wine: 24 bottles
White wine: 42 bottles
Dry vermouth: 1 litre
Sweet vermouth: 1 litre
Tonic: 1 bottles
Soda: 12 bottles
Cranberry juice 9 litres
Orange juice: 4.5 litres
Grapefruit juice: 4.5 litres
Ginger ale: 12 bottles
Triple sec: 1 litre
Lime juice: 4.5 litres
Sparkling water: 24 bottles
Bottled water: 36 bottles
Diet Coke: 24 bottles
Coke: 24 bottles