Traditionally bridesmaids became popular because people thought they could protect the bride from evil spirits. Luckily, these days, there's less focus on fending off imaginary evils and more focus on making sure the bride has an amazing time.
Being a bridesmaid is a great honour – it's a chance to support your friend through one of the most significant days of her life, and take on an important role at her wedding. As well as all the fun that comes with being a bridesmaid – shopping, organising hen dos and getting ready altogether, we've put together a definitive list of the must-know duties that every bridesmaid should heed.
1. Pre-wedding Prep
Lots of wedding preparation tasks are often taken on by the bridesmaids and they're usually good fun once you get into the swing of them. From helping her find bridesmaid dresses, shoes, and jewellery to helping to pack invitations, arrange flowers or put name places out, a good bridesmaid is a useful bridesmaid.
2. Hen Do Heaven
Bridesmaids are also expected to organise an incredible hen do – which can be a huge undertaking. Splitting the organisation tasks between the bridesmaids is a good way to do it without feeling too much pressure. Inviting friends, researching venues, negotiating prices, finding activities, planning games and of course, deciding on a fancy dress theme, all come under the role of bridesmaid. Effectively, bridesmaids are responsible for some seriously unforgettable fun!
3. Wedding Day Angel
To be honest, bridesmaids could easily go by another name – wedding day angels – because they help things to run that bit more smoothly. Bridesmaids are often charged with checking last minute details on the day – like flower deliveries, meeting and greeting friends and family and asking people to sign the guestbook or directing guests where to put their cards and gifts.
4. You've Got Her Back
Not only have you got to carry her train or veil, you've also got to carry the bride through her emotional highs and lows in the run up to the wedding. It can be a very stressful time preparing for a wedding and as a bridesmaid, it's your job to help her keep things in perspective, provide a shoulder to cry on and offer helpful ideas to make things easier. Even if you despise the colour of your bridesmaid dress, it's best to hold your tongue!
5. Organisation First
When the bride arrives for the ceremony it's the job of the maid of honour to make sure that everyone has arrived at the venue and is seated in the right place. She'll also make sure everyone is in the correct order behind (or in front of) the bride and can make any last minute adjustments to the bride's dress and veil so she looks picture perfect when she comes down the aisle.
6. Sit Here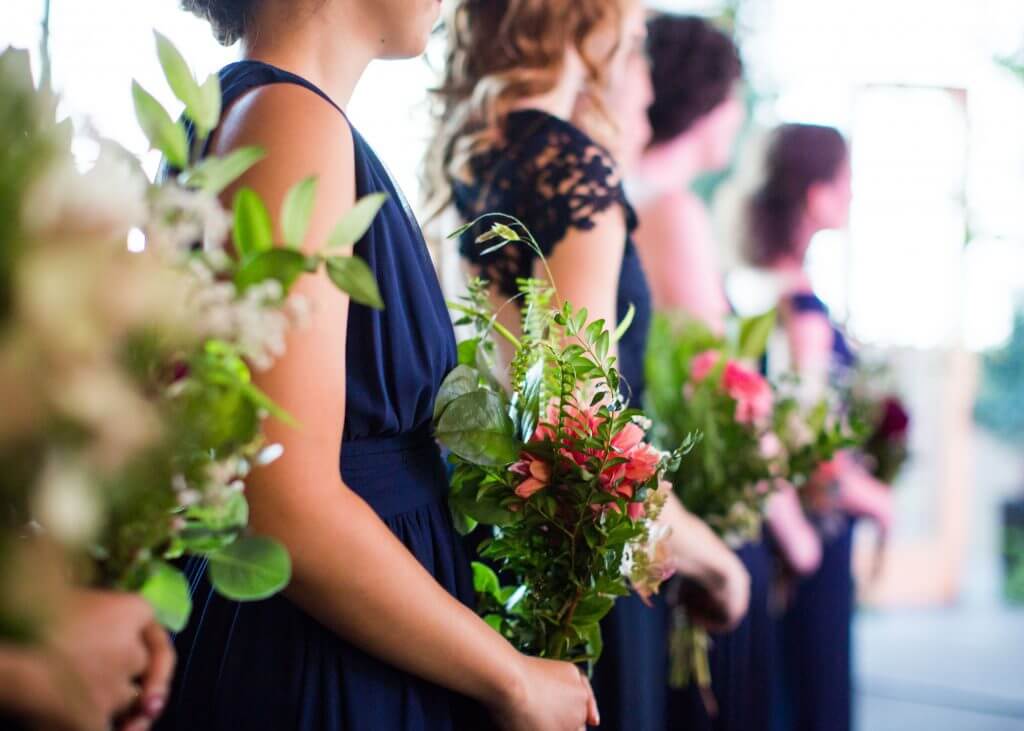 Seating arrangements aren't just for the reception you know. During the ceremony the bride's guests sit on one side with the groom's on the other, and it's traditional for bridesmaids to be seated at the front of the church or wedding venue, so they're ready to follow the bride out when the ceremony is over.
7. Emergency Supplies
Every group of bridesmaids is different and arranges the responsibilities between themselves differently, but it's expected these days, that at least one bridesmaid will have an emergency kit for the bride. This should be packed with things like plasters, breath mints, makeup and tissues.
8. Flower Girl
It's normally up to the bridesmaids to look after the bride's wedding flowers once she has had all her photographs taken with them. Find a safe spot to store her bouquet in a vase of water as it will be needed later on when the bride throws them to all the single ladies to catch!
9. Reception Duties
At the reception, the bridesmaids may be asked to be part of the receiving line – where guests greet the bridal party. To win extra points try to make sure that the bride and groom have a chance to say hello and thank you to each wedding guest.
10. First Dance Traditions
Traditionally, the bride and groom take to the floor for the first dance. The maid of honour's first dance should traditionally be with the best man although this is becoming less popular. Gaining in popularity is the idea of a pre planned dance routine with the bride and bridesmaids – another good excuse to have some fun!
11. Dress Duties
Throughout the wedding day, bridesmaids are expected to keep an eye on the bride's dress, making sure that the train is protected or properly tucked up. Depending on the wedding dress the bride is wearing you'll quite likely be asked to help her with trips to the bathroom too! The dress duties can sometimes continue after the wedding day as often the maid of honour or one of the bridesmaids is charged with getting the wedding dress to the dry cleaners the next day.
12. Friends First
The most important role that any bridesmaid has, is being a friend to the bride and listening to her when she needs. You've been chosen to take part in the intimate elements of her wedding day and that shows she has a lot of trust and respect for you.
Thinking of planning a destination wedding in Greece or how about a destination hen do party in Greece? Make Happy Memories can help – find out more about our services here.