Picking a beautiful wedding car is just one way to arrive in style at your wedding. Modern brides will love this mix of traditional and alternative ways to travel to their wedding. From the outrageous to the romantic, the traditional to the sophisticated, your wedding transportation inspiration starts here.
1. Horse & Carriage
#Princess Style
If you're an old fashioned romantic at heart then you'll have already entertained the idea of arriving at your wedding in a horse drawn carriage. This flamboyant way of traveling to your wedding will be sure to turn heads as you make your way to the ceremony. With this mode of transport you can live your childhood fantasies and have some truly special wedding pics to boot!
2. Segway
#Nice and Smooth
Your guests won't be expecting this – arriving at your wedding using a Segway is a really fun and original way to travel. It'll be sure to raise a few smiles and the groomsmen will absolutely love it!
3. Rowing boat
#Maiden Voyage
If your wedding is waterside, be it a beautiful beach in Greece or a rustic river setting, then make the most of it by arriving by boat. It's a wonderful way to add some additional fun and romance to the day – before the ceremony even gets started. We love the idea of the bride and her bridesmaids arriving in a vintage rowing boat – very memorable!
4. Vintage car
#Classic Cool
Keep things simple, classic and understated by hiring a vintage car to take you to your wedding venue. If you're wondering which model to go for, why not take inspiration from your venue? A vintage Nissan Micra is a must for an Italian wedding, while a Bentley could be the perfect choice for a quintessentially British setting.
5. Taxi!
#Get Me There
A taxi is a great way to travel to your wedding and there are loads of taxi firms out there that specialise in white wedding cars – they'll even decorate it for you too.
6. Donkey ride
#Donkey Work
If you're having a destination wedding in Greece's picturesque Santorini, embrace the local tradition to arrive by donkey ride. A dependable, decorated donkey is an offbeat choice that boho brides will love.
7. Motorbike & Sidecar
#Rock and Roll
Rock and roll your way to your venue by embracing your inner petrol head. Travelling by motorbike and sidecar won't appeal to every bride (no one wants helmet hair) but if you're an easy going bride and love adrenaline over picture perfect perfection then you'll jump at the chance to make a statement entrance in style! Vroom!
8. On foot
#Walking Shoes
Not every bride will have the kind of footwear on her wedding day that will allow her to walk long-distance, but arriving on foot is actually a tradition that's frequently practiced by brides in Greece – accompanied by traditional musicians to transport the celebratory mood through the streets.
9. Luxury car
#Hot Wheels
If bling is your thing – or if you want to impress your groom with an arrival that'll make his teenage fantasies come true, why not arrive in a luxury supercar? It'll turn heads and make all the guys fall a little bit in love with you.
10. Sleigh
#Snow Plough
No matter who is giving you away, if your wedding is going to be a snowy affair, take the opportunity to arrive by sleigh. You can snuggle up all cosy underneath a nice blanket in a horse drawn sleigh, looking very Anna Karenin and feeling like a princess.
11. Horseback
#Giddy Up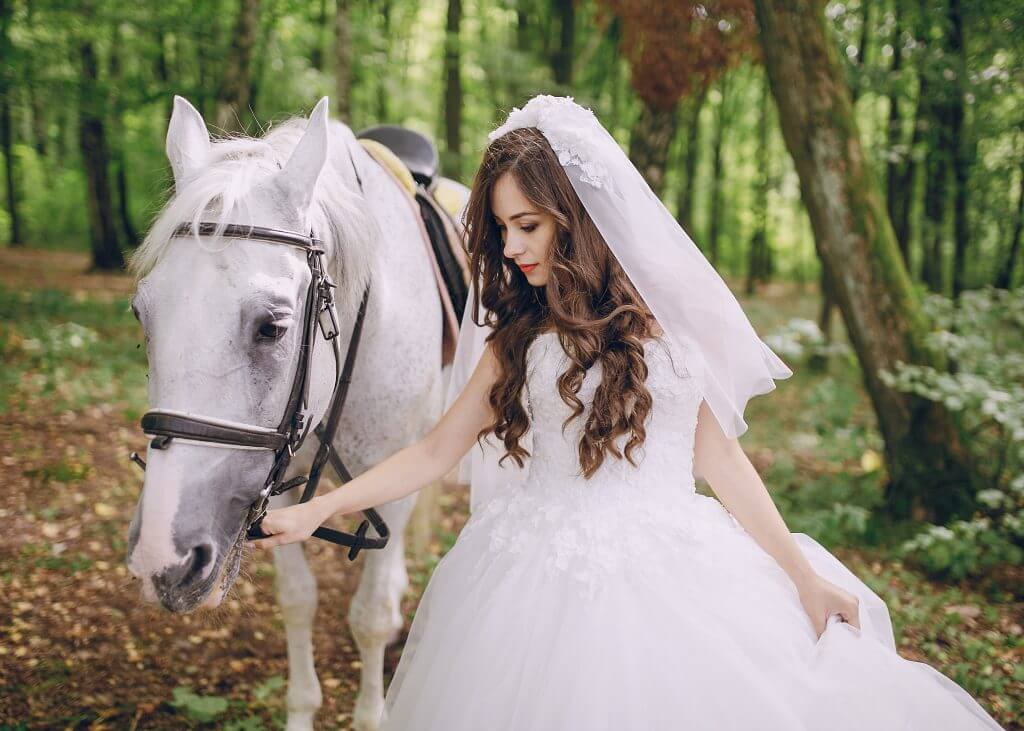 The ultimate way to arrive at your wedding? It could be sidesaddle on horseback, with your beautiful wedding dress draped over a magnificent beast. Very country and western, this kind of entrance will wow your guests and make for some amazing photos, but it will also give you a truly special moment to yourself as you approach your wedding venue in the most elegant fashion of all. What a lady.
12. Vespa
#Scoot Along
A vintage Vespa has absolute hipster appeal and makes a great choice of transport for a bride or groom who fancies themselves as a bit of a 'mod.' For extra photo opportunities, source a Vespa in a beautiful shade of cream or the same accent colour as your bouquet.
13. Limo
#Lounge Around
What could be more glam than arriving at your wedding by limousine? You'll get to enjoy a decent drink or two on the way there, relax in comfort, and calm all those last minute nerves, and all while looking like an absolute superstar!
14. Helicopter
#Air Bourne
If budget isn't an issue there's nothing more impressive than touching down at your wedding venue by helicopter. Just make sure your hairstyle is well and truly protected. Note – you may need a LOT of hairspray.