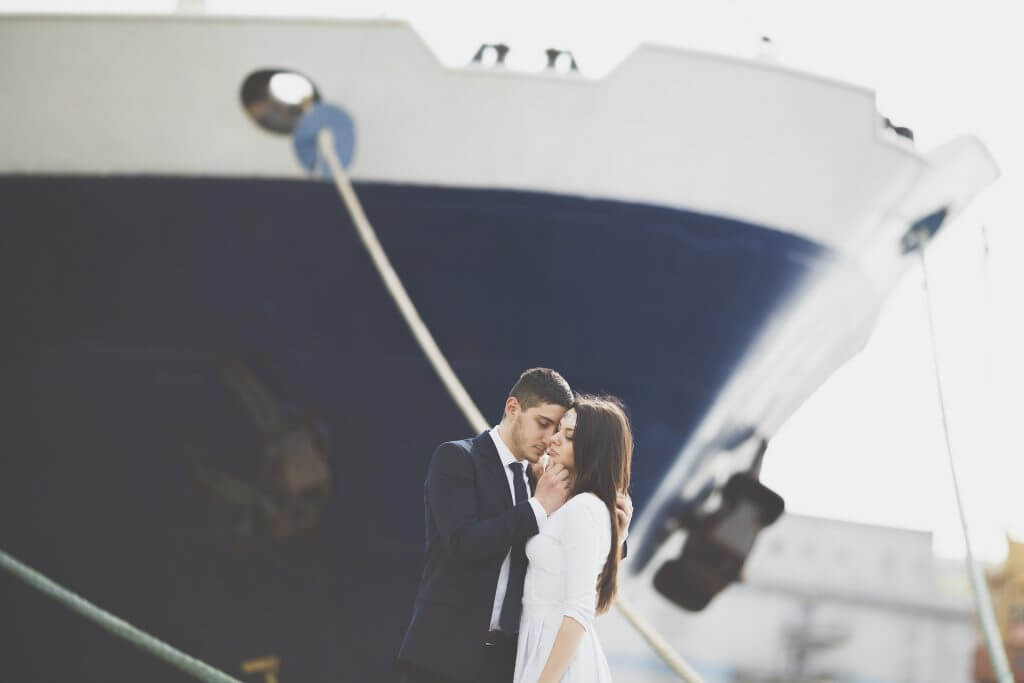 Greece has a worldwide reputation of being one of the most beautiful travel destinations. It boasts not just of physical beauty but a rich culture that has been admired for centuries. Aside from its majestic views, unique architecture, glorious weather and delicious food, one of the main attractions tourists can't get enough of are the beautiful islands spread across the country.
Because of these fascinating features, Greece has not only captured the interest of travelers but also the fancy of soon-to-wed couples, with them tagging the country as one of the ultimate wedding destinations. From beach-side weddings to cliff ceremonies, there are various ways on how to get married in Greece, all in style.
But if there's one emerging wedding celebration trend that couples should try in Greece, it's having a dreamy nuptial aboard a yacht somewhere in the Aegean and the Ionian Sea. Apart from discovering the beautiful islands dotting Greece's seas, here are some of the reasons why you should go for this kind of wedding:
1. It's uniquely fun
Yes, you and your guests may have visited Greece and explored a bit but having a wedding here aboard a yacht is a one-of-a-kind affair worth doing. Imagine discovering obscure Greek islands with your wedding party – a rare moment worth experiencing. If you and your partner are going for something unforgettable, this is the route to go.
2. Solemn ceremony
No need to worry about unwanted spectators taking a peek at your private ceremony. With a wedding on a yacht, all the privacy and solemnity you require will be provided. No honking vehicles and definitely no noisy tourists!
3. A backdrop of your choice
With a yacht wedding, you have the freedom to choose the backdrop of your ceremony. A secluded beach? A sunset view? Majestic mountains? You can get any of these with a yacht wedding — without worrying about tourists, big umbrellas, and sunbeds ruining the moment! With typical hotels, you also need to take into consideration the availability and aesthetics. With a yacht wedding, just book a boat and you're all set to scout the perfect location!
4. Privacy matters
If you're having a small party and don't want people crashing the celebration, it's best to take your wedding somewhere – literally — with a yacht, of course! With this kind of arrangement, you set the rules – who boards the boat and when the party will stop. Definitely enjoyable!
5. A treat for the senses
This luxury is not just for you and your hubby, but for all your guests as well. Witness the change of view as you cruise, from the gleaming turquoise waters of the Aegean and pictures of white stone villages up in the mountains down to sunset scenery. Indulge your senses with the smell of the sea, the touch of the wind, and the beauty of the surroundings.
6. Your luck will overflow
Water holds a lot of positive meanings around the world. In general, it represents purity and fertility, and that's something you would want to attract in your union. In Chinese feng shui, water is the source of life, associated with the abundance of luck and money. In Greek tradition, water represents renewal and metamorphosis — and what better way to change your life than to get married surrounded by the crystal clear seas of Greece, right?
7. Flexible on finances
A yacht wedding is possible whatever budget you have. If you have limited guests, you can go for a motorsailer that can accommodate up to 50 people. If you want to go big, there are luxury and superyachts that you can rent. You can also decide based on the budget you have if you want a space for an actual ceremony, an area for a dancefloor, or a nook for your wedding buffet.
8. Itinerary-friendly
Want to add a personalized touch to your wedding? Create your own itinerary for the cruise! The only tricky part here is identifying which stops during the cruise you want to take, but a knowledgeable captain and an awesome wedding planner can help you out with this. You can choose to have an inland ceremony at a quaint chapel, a reception on board, and an after-party at some secluded beach. The possibilities are endless!
9. Mess-free moments
Is the sand what's holding you back to having a beach wedding? Sand that goes inside the shoes and makes you feel uncomfortable? Worry no more! With a yacht wedding, you get to enjoy the ocean without the mess.
10. Creative freedom
No need to shell out a lot of cash for decoration that you will just dispose at the end of the celebration. With a yacht wedding, you can spend less, as the luxurious Greek surroundings will serve as your backdrop. You can also choose from a wide variety of motifs, from boho-chic to nautical, and ask your wedding planner to help you pick out complementing details and accents that will complete the look. Easy-peasy!
11. Greek weather is your friend
The main threat to a yacht wedding is rain and bad weather, but not in Greece. Blessed with wonderful climate all-year-round, the country is the perfect spot to tie the knot. An abundance of sunshine and calm sea awaits you and your hubby!
12. Cool on schedule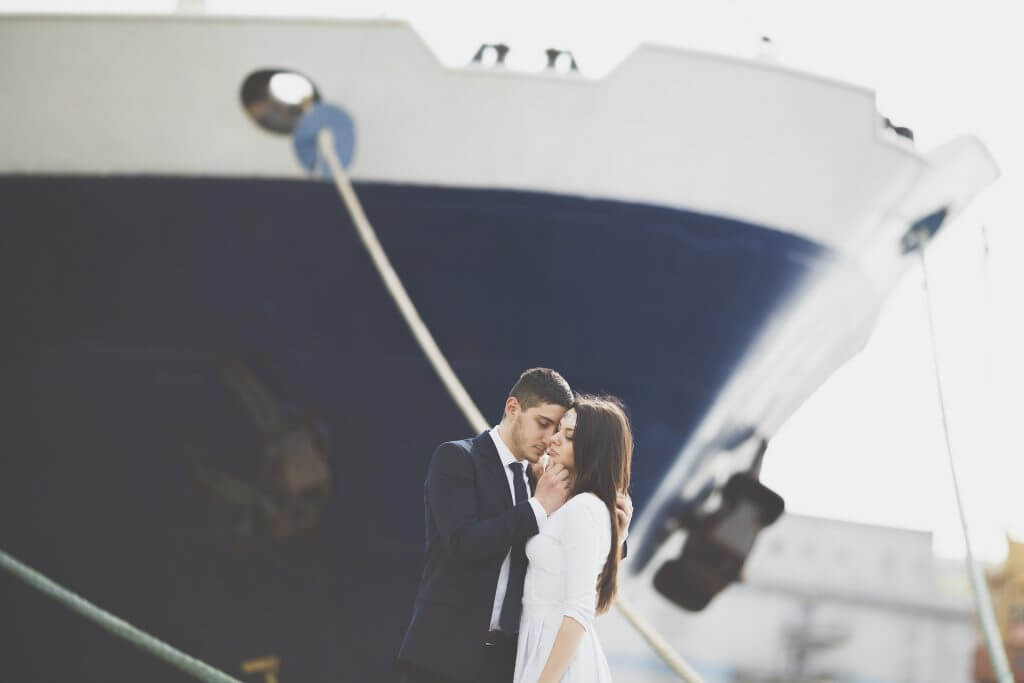 Need your schedule to be adjusted? Last-minute changes? It's so much easier with a yacht wedding! If you ever encounter unforeseen circumstances like flight delays or conditions beyond your control like uncooperative weather, it's easier to modify the arrangements with your captain. This is most advantageous than booking a hotel that will run the bill regardless of the situation.
13. High-energy happening
The beauty of having a yacht wedding is that you don't need to worry about your guests getting bored. Just the scenery is enough to wow them all throughout the ceremony. Another exciting thing is that you can incorporate other activities that will keep the energy going, like swimming, watersports, and beach games. You can also request for activity add-ons like an inflatable slide to make the affair more fun and enjoyable.
14. Boat bliss
Greece is surrounded by water that's why you'll never run out of boat options! You can go for a large-range craft or motorsailer for the ceremony then a sailing yacht for your honeymoon. There are also mega yachts available for those with more money to spend. Your coordinator can help you choose which one suits your preference and budget, scoring you the best deal and value for your money.
15. Instagram-worthy
Get ready to pose for the camera when you choose to have a yacht wedding. Everything is magical and Instagram-worthy! Greece's spectacular views and its soft outdoor lighting will enable your photographer to score winning shots click by click. You can share these images with family and friends who weren't able to make it or frame them for a trip down memory lane with your future kids and grandkids.
16. Nautical fantasy comes to life
If you've been dreaming of a nautical-themed wedding, this is your chance to make it a reality. If there's something that should be celebrated on board, it's this type of wedding. You get the most awesome props too – a real captain and a boat exclusively for you and your guests! Now that's a dream come true!
17. Real romantic
Imagine you and your hubby dancing under the stars, the wind blowing on your face and the sound of the ocean serenading you, romantic right?! Having a wedding on board gives you a VIP view of the heavens, with the stars twinkling signifying a bright future ahead. Best to invite your guests to take off their shoes and dance to the music, too!
18. Tour treat
If your guests are Greece new timers, then this is a great opportunity for you to show how gorgeous the country is while celebrating your union. It's like hitting two birds with one stone! They get to see all the awesome places and witness your magical wedding. It's a win-win for everyone. You and your hubby can act as their tour guide, directing them to the best locations, restaurants, and souvenir shops!
19. Bring the celebration anywhere
Imagine hopping island to island with your guests on your wedding day — now that's exciting! If you want utmost privacy, you can ask your captain to bring you to a secret cove that can only be accessed by boat. There are also islets with a chapel for a wonderful ceremony. If you want to mingle with the locals, you can request him to bring you to a small-town chapel and Greek restaurant for the reception. Your wedding, your rules.
20. You can blast the music up
Worried your wedding party will make too much noise? That won't be a problem with a cruise wedding! You have the place to yourselves (the sea!) so no complaints from other hotel guests will be encountered. Blast the music up and party all night long – celebrate your union like rock stars!
21. Party 'til sunrise
Renting a yacht is flexible on schedule, so you can actually extend the party and watch the sunrise the morning after with your hubby and guests. Upon docking, head to a restaurant and have a Greek breakfast together. Don't forget to ask them your guests bring a change of clothes, it's going to be a long (but fun) ride!
The most crucial part of arranging a yacht wedding is deciding what type of boat to rent based on the number of your guests and the budget. It is best to hire a good wedding planning that can guide you with this. Next, it also important to let your family and friends know that you're having this type of celebration, so they can plan ahead. Lastly, you and your partner should always remember that your wedding is a once-in-a-lifetime thing, and you should celebrate it as fun and as unique as possible, not just for the two of you, but for all your loved ones.